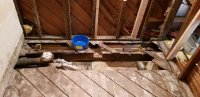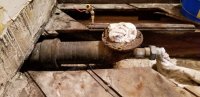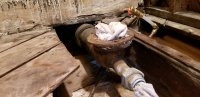 We're remodeling an old, old bathroom. The closet drains to the stack with a cast iron 4" elbow, with a 1 1/4" heel inlet for the bathroom lav and tub drain?!?
There haven't been any drainage issues (probably b/c water pressure is so low). But since we have it open we want to increase the lav/shower line to 2 inches.
Only problem is, we have to cut the cast iron elbow to run a 2" line. And there's nothing that will fit in the joist bay that could replace the elbow, without putting the toilet in the middle of the room. There's about 6" of clearance from the bottom of the cast iron stack tee to the bottom of the toilet flange.
Any tips or tricks for a new closet bend situation?
We're trying to meet UPC, but at this point will settle for best/safest option.