Messages

2
Reaction score

0
Points

1
Location
When we built our home back in 2006, the plumber installed the Kohler toilets with rigid supply lines for 3 out of the 4 toilets (the basement one which was installed couple months later got a flexible line for some reason).
Anyway, we are now in the process of installing new bidet seats and so need to replace the rigid 3/8" O.D. supply line with a flexible supply line. I have already loosened the 5/8" compression nut(?) connecting the shutoff valve and the supply line: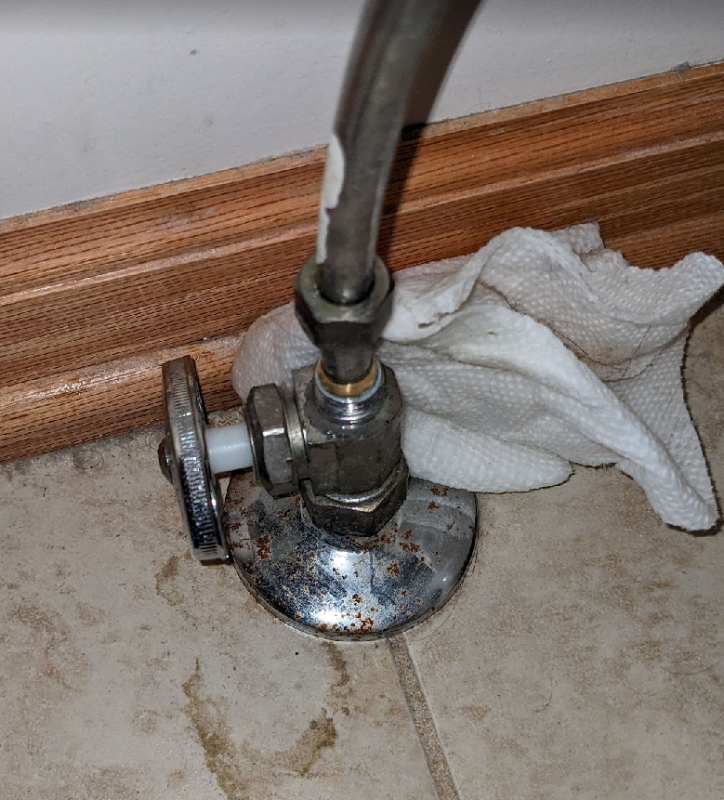 At the other end of this rigid supply line (where it connects to the toilet tank), this is what it looks like before we started: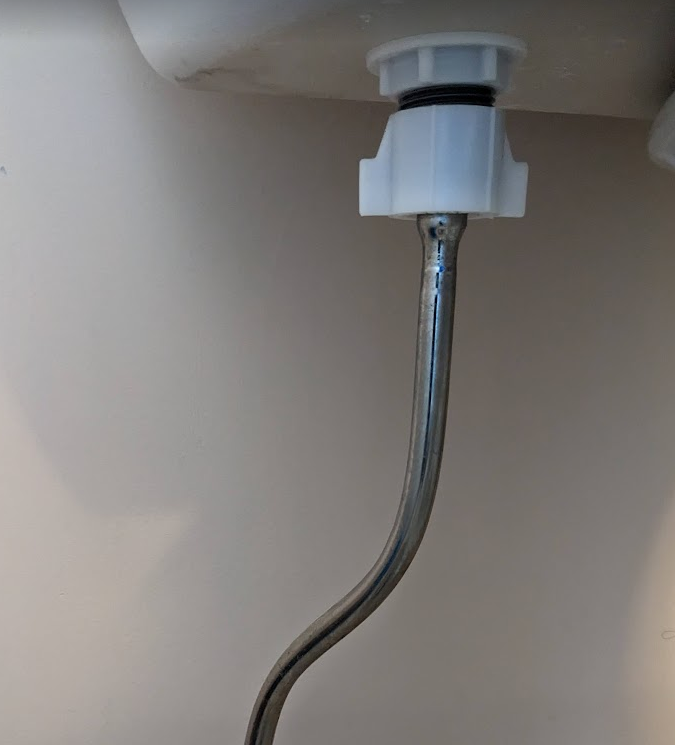 So I loosened the white plastic coupling nut and it looks like this:
As I understand, we should be able to slide the rigid supply line sideways to "disconnect it" at the black gasket / o-ring from the grey threaded portion of the toilet tank and then pull out the bottom portion of the supply line from the shutoff line.
Unfortunately, we are unable to budge the rigid supply line. I tried firmly pulling down on it initially. Second attempt was my wife trying to pull down and sideways on the supply line while I was also applying some "gentle" pressure upwards on the tank to see if it could be moved a fraction of a mm to decouple the supply line but no dice. With the second attempt we could hear a slight sound as if air was getting in and saw bit of the remaining water from the drained out tank trickle down the supply line but we gave up after about 10-15 seconds as we did not want to unintentionally damage any of the parts - especially the connectors on the toilet tank side.
Also, all of the videos we saw online seemed to suggest that replacing the rigid line was quite straightforward and since we were struggling, we weren't sure if we might be doing something wrong.
I have already purchased this
Fluidmaster flexible supply line
to connect between the existing shutoff valve and T-valve (connected to toilet tank) supplied with the Bidet:
Would really appreciate recommendations on how we can loosen the rigid line and its black gasket portion from the toilet tank? Hopefully we don't have to resort to destroying the rigid supply line by cutting it with a pipe cutter or hacksaw, etc?
Thank you so much in advance for any feedback / suggestions,
-Topper