Messages

2
Reaction score

0
Points

1
Location
I have a tight space in which I need to install an air admittance valve (AAV). The below image shows the back of the wall behind my bathroom sink that is competing with my nearby tub drain to see who can suck out the other's p-trap faster.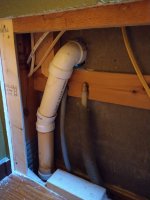 From my review of IRC P3114, my options seem very limited. In an ideal world, the drain would take a 90 down so that I could replace it with a tee wye and pop an AAV on top (at least 4 inches above horizontal) and call it a day. Unfortunately, I have a 22.5 bend to the left and my space above is very crowded. The 2x4 above the drain is too tight to allow a pipe of the same diameter to extend above it. If I can cut away the 2x4, is there a PVC fitting I haven't been able to find that let's me keep that 22.5 to the left with the vertical opening on top to get an AAV in? I'd be okay with having the AAV exposed on the bathroom side, but it's already a pedestal sink close to the wall and has little-to-no extra space before reaching the wall.
I suspect this is a lost cause and I'm going to be tearing up this wall to get an AAV in, but I thought I'd poll the audience first to see if there are any clever folks who have other ideas.
My completely off-the-wall (and certainly off-the-code) dream is that I could somehow drill a hole at the top of the 22.5 and attach an AAV via a PVC-welded pipe or something. But we'd be dramatically changing diameters and I'd still be struggling to get it in there. And I'd certainly prefer to adhere to code.
How might you tackle this one? Thanks in advance.