We just moved into an older home and I want to move the laundry to a different location in the basement. I have been doing quite a bit of reading and found some excellent resources on both this forum as well as others and I think I have it figured out but I was hoping I could get a second opinion before I pull the trigger. The complication I am having is that most of the pictures/diagrams that I have seen with a standpipe and laundry sink have the laundry sink downstream from the washer standpipe whereas I want to do the opposite; laundry sink at the end of the line, washer standpipe downstream from the laundry sink.
I have taken a picture of where I plan to move everything just for some context. You can see the 3" vertical line I will tie into on the left and the 1-1/2" vent on the right I plan to vent to.
I have also attached a sketch of what I am thinking I will do. A couple of questions regarding the sketch:
1. Does what I have proposed to do here look OK and to code? Is there anything that I am overlooking?
2. Does the second vent line (the one on the right servicing the laundry sink trap) need to be there? Or can the vent downstream of the laundry standpipe act as a vent for both? I am guessing no since there is a chance that the standpipe will act as the sink vent and that's not allowed. The sink will be immediately next to the washer so there won't be more than 30" from the laundry sink to the vent.
Any other comments would be appreciated.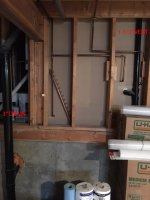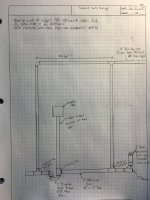 Thanks very much!