Messages

197
Reaction score

9
Points

18
Location
Website
Hi all,
I've installed an iBox in a bathroom renovation here at home, but no matter how many times I look at videos or read the instructions I do NOT understand the function of the 'fixing ring'.
Is it suppose to support the wall board around the hole cut-out? It seems the concrete board + thinset & tile should be plenty rigid for support, but I'm here to learn from others experience!
I mounted the iBox on a 3/4" plywood board after installing the 3/4" to 1/2" bushings for the Sharkbite pex fittings, but I did not consider how 'deep' to install it in the wall. I just made sure the min/max indication strip was where it needed to be. By the way: The old studs were very, very warped so I sistered them with 1x that I plumbed to flatten the walls. Basically it extended the stud faces +/- 3/4".
I certainly can move it forward so that the fixing ring is engaged in one of its 'locked' positions, but is it even needed?
Any real-life experience comments would be appreciated. It's been well over 10 years since I did my hall bathroom with old-school Hansgrohe stuff with no iBox, and although the new system is well thought out, the instructions are a little vague on certain details.
I also had a big surprise when doing the first 'flushing' of the system. The instructions make a big deal about the hot water going to the bottom outlet, and the cold going to the top. I believed them without looking at the arrows.......
Thank you for any help you can supply!
Best regards,
Howard Emerson
Huntington Station, NY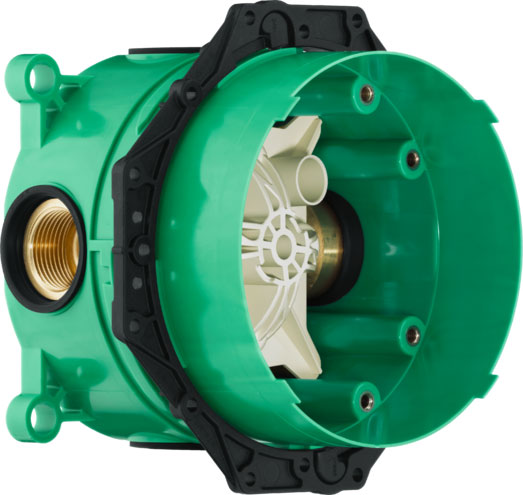 Last edited: