Messages

19
Reaction score

4
Points

3
Location
I have had an extremely rough time having my master bathroom renovated. I've received help from pros over at John Bridge Forum re: shower construction and tile installation - however, I have a few questions re: plumbing.
I've purchased a few Delta trim kits + rough-in valves - and need to know if they are the ones I need. I decided to go with Delta based upon several threads that I read on this forum. I currently am trying to find a new contractor - and I'd like to have the correct items so they can be installed as soon as possible.
My former contractor decided to leave after I questioned him about using mastic to install my 3x9 Carrara wall tiles. Right before he began installing the tile, I again confirmed that he would be using white thin set mortar - and he said yes (I purchased three bags for him). I was recovering from surgery - and went over to my neighbors while he was working - when I came home, he had completed one wall (11' ceiling) - and that's when I saw a tub of Omnigrip next to the shower.
Anyway - I need to confirm whether he told me to purchase the correct items to complete my shower + freestanding tub.
This is what I've purchased:
For shower:
Delta R10000 UNBXHF - for one shower head + Delta Ara 17T mixing valve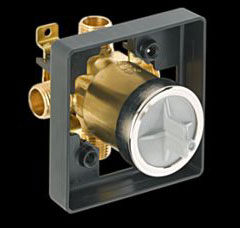 Delta R22000 integrated diverter - for a rain shower head + hand held shower head + Delta Ara 17T mixing valve w integrated diverter (3 way).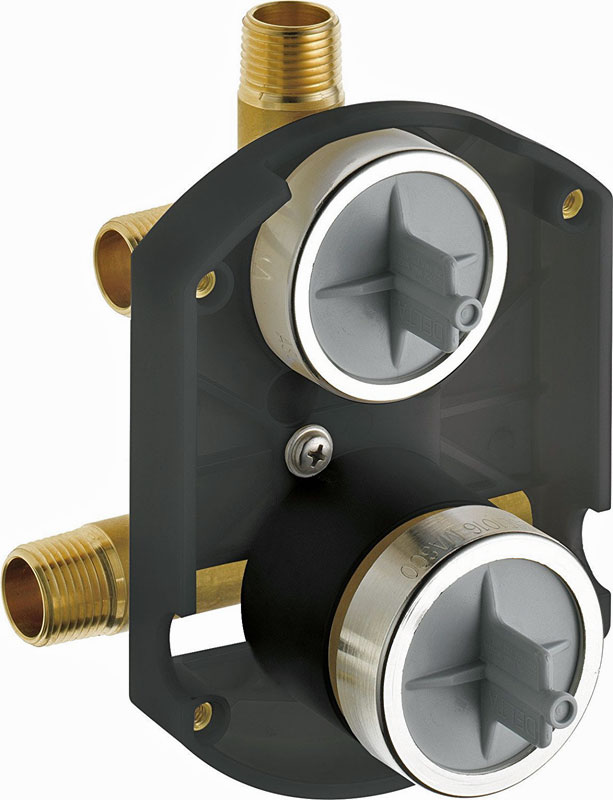 I think the above is correct?
I actually purchased two integrated diverters - one with stops and one without stops. I initially purchased the one without stops, but then found out there were ones with stops - so, I purchased it also. I assume that it's better to have the stops in case something happens later so I won't have to turn off the water supply to my entire house. I was told that the one with stops reduces the water pressure by 8-10% - I don't know if that's true - or if it will make a huge difference.
I also have two of the R100000 UNBXHF rough-in valves because I didn't realize that there were mixing valves with integrated diverters when I made my initial purchase - and I liked the idea of not having a separate diverter on the shower wall. I also initially purchased two of the Delta Ara 17T mixing valves.
For freestanding tub:
I initially purchased a floor mount tub filler + hand held shower head. After the tub arrived, my contractor asked if I would rather use a wall mounted faucet - he thought it would look better considering the space where the tub was being set. I like wall mounted fixtures - so, I agreed. This is where my confusion begins.
My former contractor said that we could use either my extra Delta R22000 valve for the tub + hand held shower head. I wasn't sure that was correct. I read a review on Amazon where someone asked this very question, and the Delta rep stated that if it was used, it would reduce the flow rate for the tub spout by 1 GPM. Another customer stated that he had used this valve this way and that it worked just fine.
Obviously, I was confused, so I called Delta. Twice. Both times I was told that I could use the R22000 valve for a tub spout + hand held shower head. However, the customer reps that I spoke with, did not make me feel very confident in their answers based upon other things they told me.
I would really appreciate if someone would let me know what the right answer is. I am hiring a licensed plumber- but I just want to have all of the parts here once I find someone.
Thanks!