Messages

40
Reaction score

0
Points

6
Location
Hello,
I recently had a Delta Classic 400 installed (or halfway installed) by a plumber.
ISSUE 1
The caulk he used was this (on the right):
The caulk job is not good: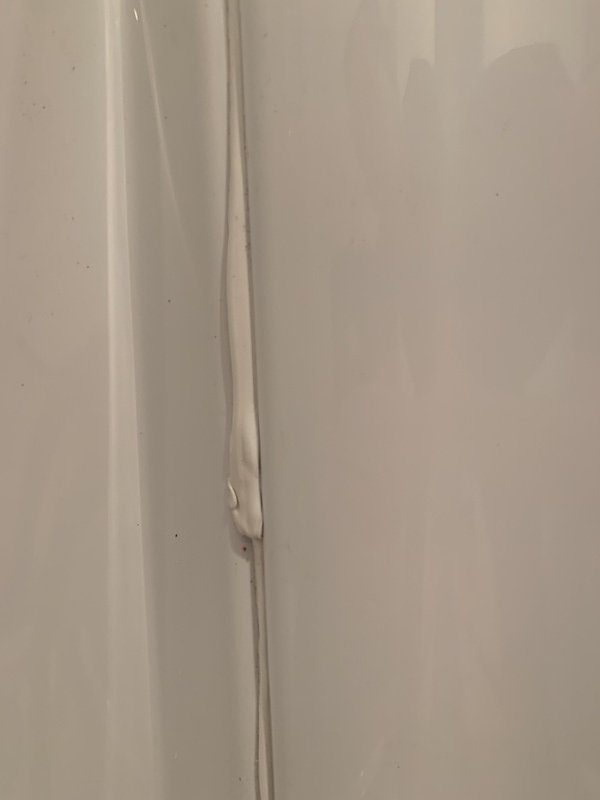 I'm going to re-do it. I noticed that the caulk he used, toting "easy water clean-up," is not recommended in the manual, which the plumber didn't look at. What Delta recommends (DAP 3.0, or Loctite PL Heavy Duty Sealant), I can't find. They also say, "If these can't be found, use latex/acrylic high performance sealants and caulks that are designed for plastic/polystyrene and do NOT use water cleanup. Other types have the potential of poor adhesion, shrink, and cracking over time."
Does anyone know what readily-available caulk I might buy to re-do this myself, and is it important to heed the manufacturer's recommendation?
ISSUE 2
The shower was glued by the plumber with liquid nails to the walls (sort of a thick siding material, as you see below), and not attached to the studs as is called for in the installation manual:
(Yes, the hole was drilled in the wrong place. He's buying a new shower on his dime.)
What risks are incurred by attaching the shower to the wall as opposed to the studs?
ISSUE 3
Lastly, I noticed that the mixing valve he installed in the wall is not completely straight. The part to which the faucet handle attaches, the part that sticks out from the valve and will go through the shower wall, points a bit to one side. You can't see it in the picture above -- I saw it from the wall opened up on the other side, but it doesn't really come across in the image. The valve stem (or whatever it's called) is leaning toward the left in the photo as it extends toward the shower wall.
The type of handle that came with the shower is this:
Is the orientation of the mixing valve a problem? Should I ask that he re-install the valve straight?
Thank you.