Messages

12
Reaction score

1
Points

3
Location
Our condo unit has back-to-back bathrooms with a Charlotte EZS 800D Starter Fitting, EZS 22 Support Frames and EZS 24 Trim Packages (
Note: I cannot physically see the interior of the wall, my info is based on sketchy as-built drawings
). The interior wall cavity width is 12". The cut sheet for the EZS 24 shows that four 5/8" x 12" rods are included with its hardware. The instructions say nothing about cutting these rods, but I'm making the assumption that shortening the 12" rods is necessary. This assumption is based on the fact that it would be impossible, given interior wall space, for the 12" rods not to protrude too far out of the wall; especially on the side that aligns with the 4" stack. See image below for details (RED = EZS 800D; BLUE = EZS 22 FRAMES; GREEN = EZS LEGS).
Q1. Is my assumption correct (i.e. the rods need to be shortened) or am I visualizing the assembly incorrectly?
Q2. The cut sheet lists 5/8" star washers but does not specify their position – do they go behind the cap nuts as shown?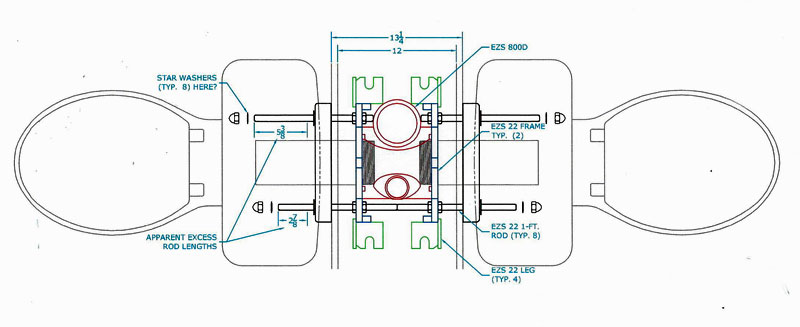 Last edited by a moderator: