All,
**Edit - My apologize I see that this is just a shower/bathtub forum....my mistake. Is there any way I can relocate this or does an admin need to?**
Good evening (est). Want to say what great forum with a lot of information and thank you to everyone who has contributed.
My question is about tiling and toilet flange. I know there has been a lot of discussion about this topic, but I searched and could not find a solution to my issue.
First a little back story... The previous homeowner glued & screwed the backboard to the subfloor, and then mortared the tile. When I pulled up the old tile/backerboard, it was pulling up little bit of the sub floor in certain areas. The subfloor is 7/8 and 24oc and for a little extra security since i am laying 6x24 plank tile, I put down 3/8 to help smooth out the subfloor so the uncoupling membrane would be smooth and true. The existing flange is installed to the subfloor and not the top of the finished floor. I know the flange needs to be extended so it can be install on top of the finish floor.....which brings me to my question.
Since I will be installing a flange extension, do I still need to tile "around" the flange, or could I tile right over the existing flange and then just around the opening of the drain (picture #2). Then install the extension flange, and screw through the tile, mortar, existing flange and then into the subfloor?
FYI....there is not access to the below as it is a finished ceiling.
From the picture below you can see how the flange if flush.
#2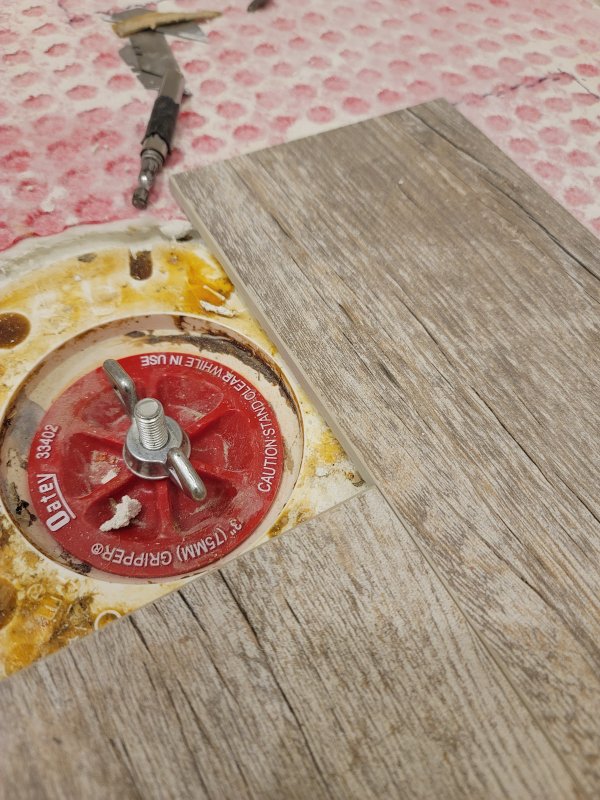 The main reason I ask is since these are 6x24 plank tiles, there will not be much tile left after I cut the hole out for the flange.....no matter how I lay the tile around the flange. I have install tile on new construction (basements) and tiled right to the drain, installed the tile which left me enough tile to install the flange on top of finish floor without the fear of cracking. Of course I would be removing and left over wax ring and clean it prior to laying tile.
Any advise would be greatly appreciated.
Thank you,
Jeff
Last edited: