Looking for some help wiring a house I've designed, and am in the process of building (you may have seen my recent
plumbing post too
) I've done a bunch of wiring in the past up to and including running a subpanel, but first time doing a whole house and first time with a slab. Austin, TX, 2020 NEC.
House is a 2 bed, 2 bath, 1150 sq ft house, slab on grade, one story. Would be pretty straightforward except for no real attic or basement, and not much ceiling for half the place. So I'm trying to think hard about where/how I will route wires, especially so before this slab gets poured.
Below is rendering of the interior of the house, taken from the S end in between the living and dining areas and looking back towards the N. Imagine a regular house, but you raised the roof up 2.5' and put a row of 2.5' tall windows all the way around in the space created. Exposed roof trusses and roof deck. There will be ceilings over top of the bathrooms and bedrooms, but then there's clear space above those ceilings and below the roof assembly. Hoping to minimize and wires/mechanicals up in that space.
Here is the electrical plan I drew up: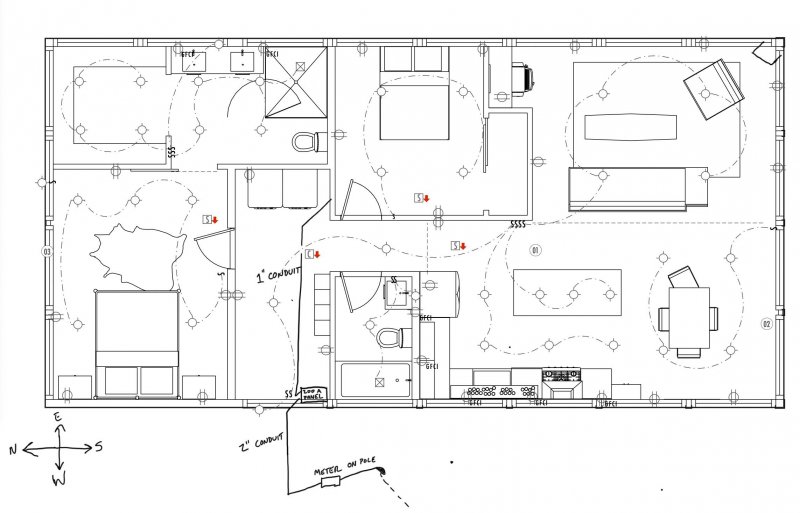 What circuits will I need? That would help plan what if any other conduit runs I might want. So far I've got:
Kitchen
Fridge - 15a, 14g
Microwave - 15a, 14g
Countertop/small appliance - (2) 20a, 12g, gfci
Dishwasher - 15a, 14g
Single wall oven - 30a, 220v, 10g
Cooktop (gas) and range hood - 15a, 14g
Bathrooms
Receptacles - 20a, 12g, gcfi
Lights/fan - 15a, 14g
Laundry
Washer/gas dryer - 20a, 12g, gfci
General
Receptacles - 20a, 12g, one circuit ea bedroom, living room, dining room
Lighting - 15a, 14g, probably three total, however makes sense
Outdoors - 20a, 12g, gfci - maybe two or three total
The service/meter will be mounted on a pole about 11' from the house. 2" conduit run down from the meter to the panel inside the house on what is the West wall there. Coming from the panel it will be easy enough to get wires to the NW corner bedroom, and the bathroom/kitchen along the W wall.
It will be more difficult to reach the East side of the house since the center hallway is open to the ceiling, so I thought it'd be good run conduit over there. At first I was thinking one fatty 1" with a bunch of circuits, but reading more now it sounds like 3 or possible 4 circuits per conduit is the max due to derating/wire fill. So maybe two separate 3/4" conduits to the "other side"? THWN in conduit with a PVC box on either end and then I can switch to NM-B?