First, I'm in over my head on this one -- plumbing is not in my wheelhouse. I have a complicated design but do not have sufficient knowledge to even know what questions to ask. The plumber I'm working with says that the design complexities are above his confidence level. So, I'm hoping this brain-trust can help me close in on a solution. I've read a number of posts here to educate myself and appreciate the expertise.
Objective: install four (4) Kohler ceiling panels (K-98740) resulting in a total 16 showersprays.
There is 0.6 gpm maximum flow rate from each sprayhead for maximum combined flow of 2.4 gpm per panel using 1/2" NPT connections, max pressure 80 psi. So, total, max volume is 2.8 gpm * 4 = 11.2 gpm (well supply). Each shower panel set calls for a pressure-balanced loop.
Upstream, is a 1" 3Way "L" ball valve, that is used to break the vacuum so that water doesn't rest in the assembly and drip out.
This is fed by a 1" Pex line containing hot/cold mixed water.
This line comes from a Rohl U.5555BO rough in valve. 3/4" in and out; flow rate 14-16GPM.
The rough in valve is fed by two 1" hot/cold lines. Hot lines comes from a dedicated Rinnai Sensei 11 GPM on-demand water-heater.
The problem: how/do we need to pressure-balance the 4 panels with 4 pressure-balanced showersprays each?
One idea proposed is stacked pressure loops. One loop per panel, then a loop across each panel loop inlet. Another idea is to use a manifold after the 3 Way valve :
https://www.amazon.com/4-Loop-Valve-Brass-Manifold-Tubing/dp/B07541X9D4/ref=sr_1_1?dchild=1&keywords=4+loop+Plumbing+Manifold+1"&qid=1616254672&sr=8-1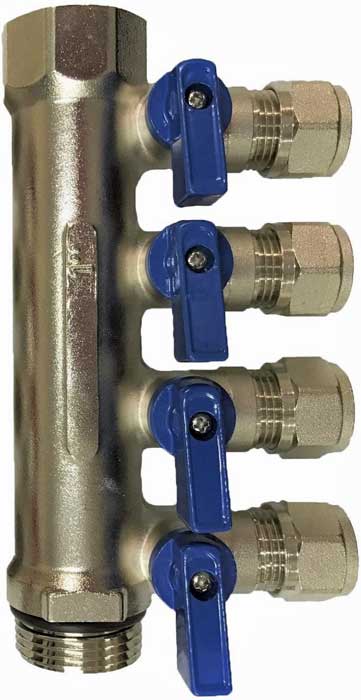 Obviously, there are a lot of constrictions here which I imagine is a concern. Pressure balancing seems like another.
Again, I don't know the precise questions or what to research. Thanks in advance for all your help and guidance.
Sources in reverse stream order:
Kohler WaterTile:
https://www.us.kohler.com/us/watert...sprayheads/productDetail/rainheads/925557.htm
WaterTile installation instructions:
https://www.us.kohler.com/webassets/kpna/catalog/pdf/en/1207715_2.pdf
Ball valve:
https://www.electricsolenoidvalves.com/1-inch-brass-3-way-electric-ball-valve-3-wire/
Rohl rough-in:
https://houseofrohl.com/thermostatic-rough-valve-with-volume-control-u-5555bo/