Messages

5
Reaction score

0
Points

1
Location
... and by the look of things on the various forums i've been browsing, they definitely don't seem to make them like they used to.
My parents bought the house in 1973 with who knows what kind of water heater and i was born in 1978. That heater started having issues in 1984 when they did a lot of work on the house and had it replaced with this one. It made it though the whittier, sierra madre, and northridge quakes. And the most recent one (and all the little ones along with it). It didn't get flushed until about 10 years ago while helping with some maintenance around the house but when i started to drain it and the plastic valve broke instead. Plastic valve, and it didn't want to come out so i noticed it could come apart, so i swapped in the guts from the new valve and all was well. Oh... and they never once changed the anode. I looked at it when i changed that drain valve and figured it wasn't worth the risk to even touch. It makes me wonder if the tank was somehow protected by a layer of hard water buildup that developed very early on. We get our water from the LA Aquifer, not the water that comes down the LA Aquaduct. Thankfully.
Soo.... below are some photos of the water heater. Now on to the questions.....
Time to buy a new water heater. Being in Southern California i guess i'm required to purchase an Ultra Low NOX unit, and additionally it seems changes in the building code in the last few years now prevent me from installing the new water heater myself. Lemme guess, Unions pad some politicians wallets for that?
The most commonly available water heaters here are AO Smith and Rheem. I can also get Bradford White, and American Standard.
What brand would you guys recommend? I'm leaning towards the Rheem since its seems like parts are easier to get than other brands.
I'm not planning on spending a bunch of money. It's gonna be a 40 gallon, natural gas, without all the stupid wifi and digital displays. (parents still can't program the time on the microwave). One thing that will be different though, is i plan on replacing the annode every 4-5 years and if the unit does not have a proper ball valve drain, i'll install one of those.
I've already got a plumber who is going to come by and do the install/removal as well as adding a copper pipe for the pressure and safety valve. He's gonna charage me $250 for the job which i think is reasonable if i provide all the hardware (minus the copper drain)
Here is my shopping list:
1x water heater
2x 3/4" copper flex lines 24" with nut on each end.
1x 1/2" x 24" gas flex line
1x 1/2" gas valve
1x 3/4" brass full port ball valve FPT
1x 4" brass nipple FPT (or should the drain valve use a PEX lined nipple?)
1x 3/4" FPT to FHP adapter
Anything I'm missing?
edit\
I should also add that the water lines in the home are all copper.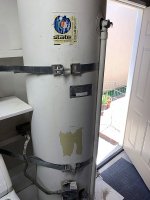 Last edited: