Messages

2
Reaction score

0
Points

1
Location
Hi all,
Found out our toilet was having an extremely low leak causing peeling paint so we lifted it and found the original installer had used two poorly installed flange spacers and a too short wax ring. Lots of gross mess to clean up but here's the issue: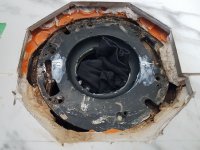 The flange is now just over 1 inch below the tile floor. I think I need to use two wax rings to seal this up right after I siliconed in some drilled holes from the previous spacer install. Spacers wont work as you can see they drilled screws in all sorts of places to get it screwed down, however there is tiling material in the way (right side of the photo) so spacers are all off kiltered (causing the leak I think).
I'm going to get this extra tall wax seal with flange:
https://www.homedepot.ca/product/fl...-gasket-with-plastic-flange-sleeve/1001141463
And I have already a standard wax ring:
https://www.homehardware.ca/en/wax-toilet-gasket/p/3277830
In what order would I use these rings, and where would I place them?
1.) Thick ring with sleeve on the floor, normal ring on the toilet?
2.) Thin on the floor, thick ring on the toilet?
3.) Squish both on the floor?
4.) all on the toilet?! (probably not)
Thanks in advance.