Messages

4
Reaction score

1
Points

3
Location
Hello,
I had to have my original copper drain pipes pulled, and I am trying to pick up where my house was left after someone bailed on me. The short of it was that a copper 2" pipe went through the HVAC return duct right over the HVAC main stack with a failing joint there, so it was supposed to be rerouted, but I am picking up midstream on this job, and it's now a DIY. I am good with the doings from being a building maintenance man years ago but not sure about the right solutions. What is in the pictures is a run where there is an AAV (both 20 DFU branch/ 8dfu stack) at
the kitchen: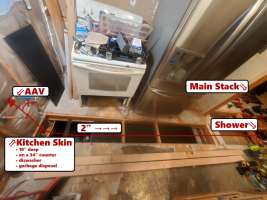 and one at the bathroom: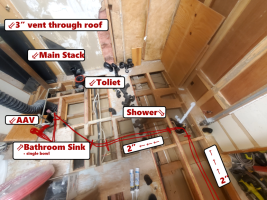 with only the main vent stack. There is a clean-out on both AAV locations, and set to be 6" above the p-traps. I think I have everything in order, but I want to check before I drill a hole through that main beam there.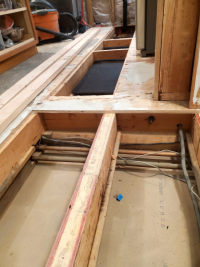 I would think I need to brace it up since it's the main beam running the length of the house, but the holes above the HVAC 2 ft away are not reinforced so I may be overthinking it, but I don't want to start cutting holes before I am sure on the path here. I am reusing all of the holes in the joist that was already there. That is why the kitchen flows toward the shower, then toward the bathroom sink, and then to the main drainage stack. The points of interest to me are
the shower assembly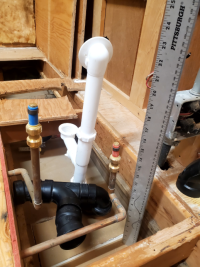 I dry fitted it together and
the kitchen assembly: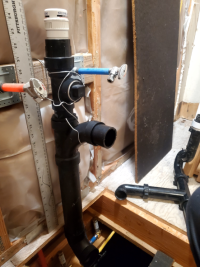 , and it's the position in the bottom plate (not coming in front of the plate and block as I did to hold it in place in the picture with wire)
Thank you for the help; I want to get this right and effective for years to come since I have so much of the walls and floors opened up and I have to bail myself out here anyways.
Last edited: