Messages

402
Reaction score

3
Points

18
Website
Consumer reviews and opinions can be posted below concerning the Toto Drake toilet.
Map testing for the CST744S is 900 grams.
Terry Love's Consumer Report on Toilets
Post a Followup
"After one year of living with a plunger, I replaced both of my toilets with the Toto Drake model. What a relief that this problem in my house is permanently solved. The toilets were easy to install, and never, never any clogs. Thank you, Terry, for your invaluable web site."
Brian Austin Mon, 21 Mar 2005
Installing instructions
The most recent comments about the Toto Drake
I would have never thought I'd have given so much thought to "toilets"!. But I have. My knees are becoming troublesome, so I had a plumber out yesterday to do an estimate on an ADA. He recommended the Toto Drake. After browsing Consumer Reports ratings and doing a Google search and coming across your site, I immediately called and scheduled an installation for this morning. It sits very comfortably, is easy on the knees, flushes complete and remarkably fast, and has an almost no-noise refill. Amazing. KBNiteOwl 10/7/2004
Thanks for recommending the Toto Drake.
When we remodeled our main bathroom in 1999, we had to install our first 1.6gal toilet. That terrified us. We didn't want the deafening noise, splashing mess or streaks & spots we saw with other low-flow toilets. And, reflush after every use to clear the bowl? What a waste. And we certainly didn't want to live with a plunger next to the bowl.
After reading your advice, we installed a Toto Drake Elongated bowl toilet in August 1999. It took us a few weeks to get used to the quick, quiet flush, thinking that it wouldn't meet our needs.
We were gratefully surprised. The toilet is regularly used by our family and serves as the guest bath when we have gatherings. In the last 5 years, I can remember only one time that I've had to find the plunger. That was after my 9 yr-old niece, who (no exaggeration) tends wad about a quarter of a roll of TP.
We're planning another bathroom addition and will purchase another Toto Drake. Thanks for your advice. D. & K. Taylor 10/1/2004
About 9 months ago we remodeled our main bathroom and bought a one piece American Standard toilet. It looks nice but clogs up 2 or 3 times a week with solid waste. After finally being fed up, my wife and I went to Lowes and talked to their so called toilet expert. After explaining our flushing problems the guy looked at us and stated that he has never heard of a problem like that before. So much for his expert help!
I came home and started doing some research on the internet and came across into your site. Boy did I find out everything that I needed to know about toilets!! Based on your site test report and user comments, we decided to buy a Toto Drake and we couldn't be happier with our choice. It flushes very quickly and efficiently, has a large water surface area, and is quiet to boot.
Through your site I was able to find out all of the information I needed to know about what makes a good toilet work, so I could make an informed decision to make a purchase, thank you very much for all your effort!!!
David Farber, homeowner
Tue, 28 Dec 2004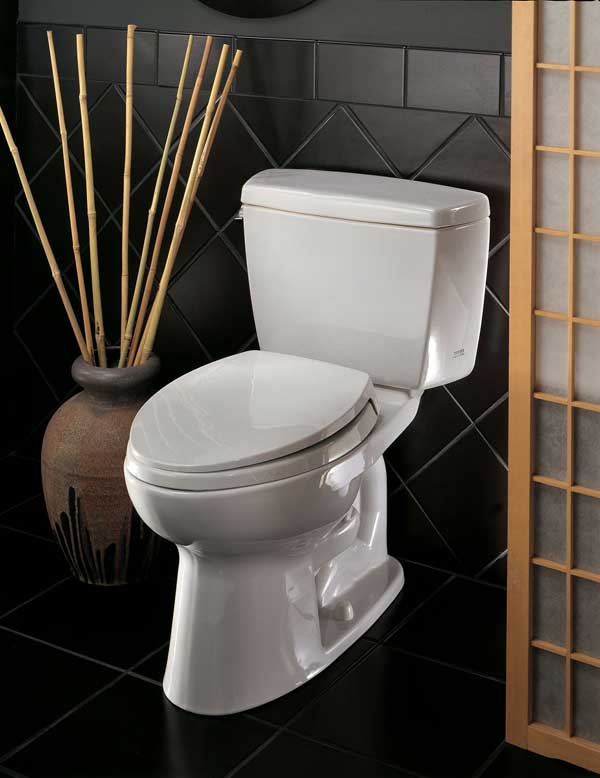 Last edited by a moderator: