Hi -
How do I vent this bathroom that was roughed in before the house was completed?
Same bathroom in all pix, just showing what the room looks like now (we had to cover the studs since the inspector decided the basement was "finished" and he wanted it fire rated).
2" from lav and tub; the tub ties into the lav line, which wyes into the 3" downstream of the toilet
3" main stack from upstairs (now enclosed in the wall, and servicing the rest of the house)
4" toilet
3 plumbers gave 3 different bids with different thoughts on what "had" to happen:
#1 said add studor vent to lav in a vanity; will vent the whole bath group = $
#2 said extend the vanity 2" line up the wall and tie in to a vent on the first floor (open drywall in the bathroom directly above) = $$$
#3 said jackhammer the slab around the toilet and tub drain; cut a tee in and run a 2" vent up the wall between the tub and toilet and tie into something in the 1st floor joist space (couldn't tell what he was planning on tying into...) = $$$$$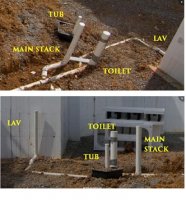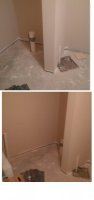 What's the best, easiest way to do this? I'm not afraid of the work, and will do it myself if there's a better way. I'm just concerned that there are three different "right" ways so far.