Retired Defense Industry Engineer xxx
Messages

32,772
Reaction score

1,191
Points

113
Location
Toto over the years has used a few different fill valves, but those sold in the USA, along with those on some other brands, tend to have valves made by Korky, so the following applies to those as a group.
Plumbing bits don't last forever, and especially if you have high water pressure, the cap seal on your Toto/Korky Quietfill flush valve doesn't either. When they are getting to the point where it needs to be replaced, you'll notice one or more of the following symnptioms:
- a delay from the flush to when the refill starts
- excess water spraying out of the cap (if you don't put the cover back on, it may spray, hit the top of the tank cover, and leak out)
- and, eventually, it won't shut off (this could also be a symptom of the flapper valve being worn out)
Replacing one is easy, does not take any tools, and is cheap.
Www.supply
house.com has them at less than $2, but then you have to add shipping. If you're going to order more than a couple, it's way cheaper than Amazon, and many of your local retail plumbing supply houses, and they ship fast. I don't have any financial interest in this company. I just ordered a few, one to replace one that had failed, and a couple more as ready replacements for the next time, which, on my water, use factor, and water pressure, seems to be somewhere between 2-4 years. Some may get much longer, and if your water pressure is excessively high, maybe shorter.
As the seal ages, it starts to conform to the cage it gets pushed against, and hardens. How fast depends on your water chemistry so a well owner might get much longer use out of one. On municipal water supplies that have potentially lots of chemicals in it to keep pathogens down, or with higher supply pressures, your viable lifespan will be less.
I just replaced mine, and took a picture of a new cap next to the old one. It was still sealing, but you can see the cracks, and it probably wouldn't have lasted much longer before it wouldn't shut off at all. I didn't notice it delaying the refill on this one, but have noticed it previously on this toilet as the cap's seal aged out.
Be careful to ensure that the fill tower height is in the locked position, and stays there as you try to remove the cap, otherwise, you'll spend some time readjusting it so that it shuts off at the proper level.
It can take some force to remove and replace the cap as it's a plastic to plastic turn-lock cam arrangement, but it helps to use the stub where you attach the hose for a bit more leverage and most people should be able to do this themselves rather than paying a plumber to do it for them. Often, people think they need to replace the whole valve, and that's true with some designs, but not if you have one made by Korky (from the factory, it says Toto on those installed by Toto, but it's the same thing using the same parts).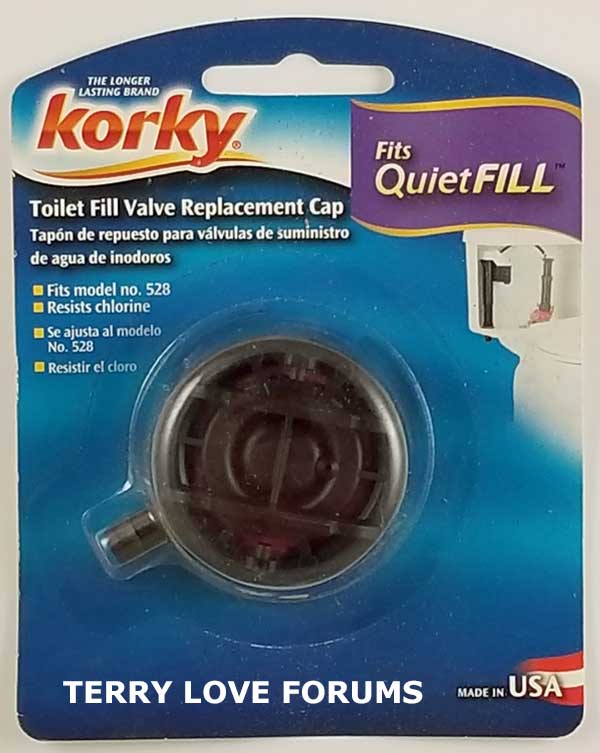 Last edited by a moderator: