Messages

6
Reaction score

0
Points

1
Location
Hi,
Before finding and reading the information on this site, I thought I knew which way to go with regards to buying a replacement water softener. I've been enlightened which can also be a curse when all you want to do is buy something and install it! LOL Current system is a 20 year old Fleck 5600 Econominder 32,000 (I'm assuming that's with 1 cu ft resin?). Water hasn't felt great in years and our skin is taking a beating. Thought it was just age taking it's toll. Was orginallly thinking I needed something with more capacity after reading this forum. Decided to get a current water analysis as it had been years since the last one was done and I wanted to be working with accurate info.
I'm on a well and here's my report: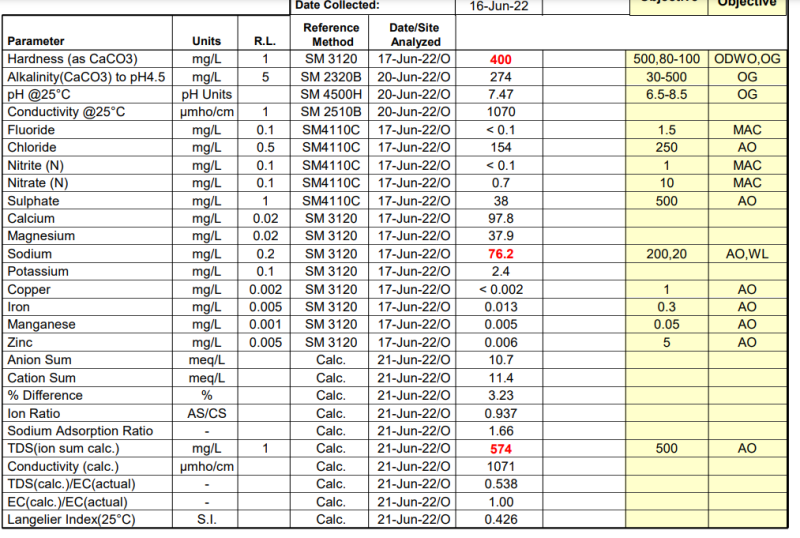 Looking at the Aquatell.ca site and their sizing assistant, it was recommended that I purchase a Fleck 5600SXT with 1 cu ft of 10% cross-linked resin. Sounds a little on the small side to me as I see some on this site recommending much larger units with similar parameters...anyone else? While I'm never looking to spend a fortunne, I am looking to purchase something that willl work effectively and efficently. My input pipping is 3/4" and I have 4 people living in this place (2 adults and 2 big teenaged boys...probably the need for 4 adults).
I will be doing the work myself...just want to make sure I get the correct setup. Also, hoping that it's relatively easy to program to run!
Would be very grateful for anyone of you experienced gents to provide some recommendations.
I'm in Canada...so would be looking for replacements up here obviously.