Messages

1
Reaction score

0
Points

0
Hi,
This is my first post. Just looking for some insight into my issues. I have an older PF 3 handle valve in my shower, with middle diverter. As far as I know, its original to the house which was built in 1970. I remodeled a year and a half ago, but the valves seemed ok, so I simply replaced the handles with new ones of the same design. The were a crappy vinyl surround that had leaked, so I replaced the sheet rock around and then tiled the whole thing. I didn't disturb the plumbing other than the spout to fill the tub, and I had the old steel tub resurfaced.
Fast forward 1 1/2 years, and I went to do a very mild demo/remodel of the small half bath off my master on the other side of the wall. I found some sheet rock damage behind the old vanity, which happens to back up to the shower, so I pulled it out. I've got some ugly water damage that's been going for a while, as you can stick a screwdriver into the stud in the center as well as the sill at the bottom. I'm thinking/hoping that its simply an old valve such as
HTML:
https://terrylove.com/forums/showthread.php?t=684&highlight=Price+pfister+handle+leak
.
At first, I thought it was the body of the valve, but looking closer, its definately coming from the diverter area, although the cold (right side from inside the shower, left side from the other side of the wall) leaks from the handle as well. Stupid me, I should have replaced the valves while I was there, but whattya do.
The wood is certainly an issue to replace, but is do-able, so I'm hoping for some insight on that valve. Is this a common problem? Should I repair this valve issue (is there a risk of it reoccurring shortly down the road), or would I be better off ripping it all out and replacing with another brand/style? I'm no plumber but I can follow instructions, but my brother is handy, and he's a master tile/granite/bathroom guy (owns his company) and he's offered help. Your thoughts?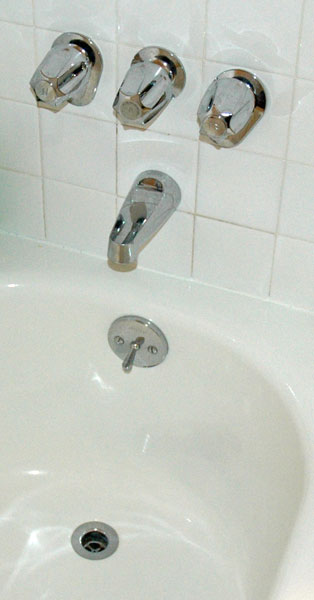 Last edited by a moderator: