Messages

3
Reaction score

0
Points

0
Location
Oh wise ones, please take a look at my layout below and tell me if it looks sound. I am not even close to being a plumber. So forgive me for the crude drawing and wrong lingo.
A little history. I've live in this house for 2 years. When we bought the house, we were told that the well water may be contaminated with ecoli. I bought a UV sterilizer and during remodeling put it inline between the well and the pressure tank (someone told me later that maybe it should have been placed after the pressure tank to limit the rate at which water is flowing through it.) I also installed two high dollar electric on-demand hot water heaters. After about 6 months I started having lots of problems with the on-demand units. Tripping breakers and water pressure drops mainly. I finally put 2 and 2 together and realized all the little white chips coming from the shower head were from hard water and probably causing the on-demand problems. I had the water tested and found it to be about 9 grains. As of now our on-demands have been rendered almost useless and my wife is about to kill me.
This weekend I found a used Kinetico M60 unit locally and I plan to install it this weekend. Here are my components and how I think it should all go together. Any input would be helpful. Especially for the questions below.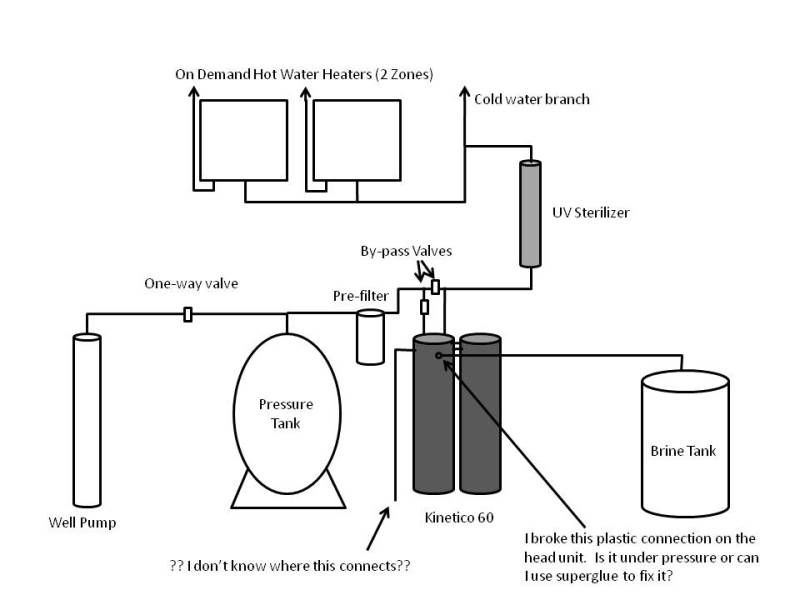 As you see, I've got a well and indoor pressure tank. Currently there is no "one-way valve" isolating the well which means its under the same pressure as the rest of the house. I've been told this is bad. What type of valve should I put there?
There is a plastic male connection on the Kinetico head for the line that runs to the brine tank. I broke it in transit. Its part of the head unit. Can I glue that back on or do I need to have Kinetico come out an replace that part?
I'm not exactly sure how to make a by-pass for the system without just putting two valves at the connections as shown. Pictures of other units will probably help me on that. I'll search the forums.
The system didn't come with a pre-filter. I bought one of the $69 types from Home Depot. Will this be okay?
There is an extra line coming of the head unit that I'm guessing is a drain line. Does that sound right?
Thanks again for any help. If anything is unclear let me know and I'll try to explain better.
Dwayne