Messages

40
Reaction score

0
Points

6
Location
Has anyone dealt with frost heave on a toilet drain pipe? I have a toilet drain which goes straight down into the soil, and then (I think) makes a 90-degree turn underground, and meets the main drain line of the cabin in shallow ground about 10 feet away, and 10 feet outside the cabin. The soil is subject to lots of freeze/thaw cycles.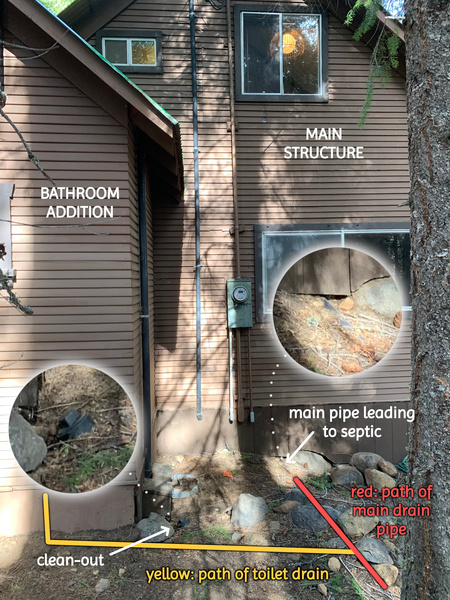 The toilet inside the bathroom addition has risen above the floor.
The previous owner of the cabin said it used to be flush. He hasn't used the cabin in 14 years, and it was only recently shimmed just before we bought it. At first I assumed things were sinking around the toilet, but I've found no evidence of sagging floor, joist damage, or sinking foundation. It appears that the floor is fine, and hasn't moved. I've found very limited advice on "frost heave" online, so I'm wondering if anyone here has encountered this, addressed it, or otherwise acted to prevent it in how they lay drain pipes?
I'd like to re-floor the place, but am reluctant to do so if future movement of the toilet would necessitate cutting up the floor. The space underneath is very tight, maybe 16 inches or less, with pipes running everywhere.
I have a similar thread in a cabin forum, but was hoping for some regional plumbing knowledge on the issue. The cabin is largely outside any code situation, as you can probably tell. I very much doubt that the drain pipes are buried beneath the frost line.
Thanks for any ideas, suggestions, or theories.