Messages

151
Reaction score

4
Points

18
Location
Folks,
Well, I am finally rounding the corner on my first time (whole house) PEX project. I am using the expansion fittings (bought the Milwaukee tool). I must say that tool is very nice and everything seems to be working out pretty good. Before I finalize everything I had some questions on clearances and the like.
I only have a bathroom, kitchen sink, dishwasher, laundry sink, washer, and two hose bibs.., I managed to run the pex through oversized holes used for my drains and under the tub. I am not sure how much clearance, but assume I have like 1/8" beyond the diameter. Is that enough (it is probably more). Does the pex move around when faucets are turned on/off?
My plan is to put some clamps in place to clean up the approach to these openings, but is there enough clearance in them. I am not sure how much the diameter of pex expands. I was planning to use some of the foam pipe insulation on these runs in the ceiling and maybe lightly wire tie things together. Any problems if I use spray foam to lock things in?
Here are some general views of what I have going on. I tried to just have sweeping runs without pulling things taught.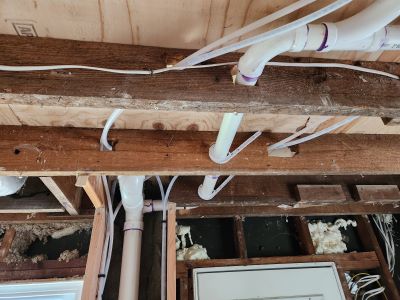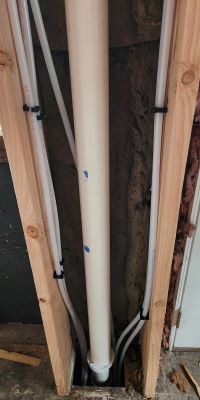 When it heads into the basement it looks like this:
On one or two of the connections, they do not seem to be fully seated??? My plan was to turn everything on to see if there is a problem, then address, if need be.
A few questions.
1. I read on the reviews of the manifolds, some people needed to hit them with a heat gun to help out. Should I run a heat gun over all my connections to be safe (can it hurt anything)?
2. DO i need to lose sleep over the connection that is not fully seated? If it holds water am I good?
3. On my hot water manifold I have 10 outlets but only need 5. I can plug the other 5 holes, or should I buy a 6 port manifold and only worry about plugging 1? I just assume keep what I have, but if it will lead to problems I can replace.
How much expansion is an issue? My runs are all less that 25 feet or so, so since I don't have things overly taught I assume I am OK from an expansion point of view? Can I use spray foam to help secure things in place or will that cause issues?
Thanks in advance....Mike