Messages

66
Reaction score

3
Points

8
Location
New to forum and it looks like I've come to the right place.
Back ground. I'm on a lake. Had a system that was installed before we bought in 2003. Had a pre iron filter that backwashed. And a softener (installed around year 2000). Water was great. But brine was killing trees near house. And I was also concerned with salt next to the lake with septic. Salt is BAD. We switched to potassium and all was good. Except it was expensive and hard to find.
Fast forward. New house. Only a few houses away, drilled last year.
Water results at the bottom.
Problem with water test is it does not tell you if it's dissolved or undissolved iron.
I bought several test kits and concluded most of it must be undissolved? Because the 1 micron sediment filter dropped iron a ton.
Another problem is, I think, since it's undisolved it can get stirred up. If I use the well hard, the next day it will spike iron.
So I put large 20" 1 micron filter and that gets rid of a ton of the iron. It's less than 1 ppm with that filter. Most of the time.
So I bought one of these pentair iron cartridge filters (expensive), that removes iron, as a temp fix, followed by a carbon filter and then a "water drop" filter under sink. I measured 0 ppm at the sink. Water was great.
That water drop is fantastic BTW.
Problem is after a few months we could sense iron in the shower. Just a tiny bit. We were more sensitive than the test kit. Test kit showed a trace. Water Drop was taking the last bit of iron out.
Since hardness is pretty good and PH good I wanted to avoid a softener if I could.
I thought this was gonna be simple to just get a backwashing "iron filter" (like we had) but there are so many trade offs with each system.
Air injection seems like a nightmare.
The thought of using salt, potassium, or chlorine etc. seems over kill and I don't like the side effects nor costs. We don't care for water being to soft either.
I'd love to know what the iron filter was at my old house. Any idea what it was? I don't think it had air injection and did have a backwash.
Someone mentioned trying an AIO filter (green sand) but leave AIO off in another thread. I think with the 5 micron filter iron should be low enough that, that might work. But it's hard to know how much the iron might spike. It varies a lot.
I'm tempted to just keep buying these expensive iron filters at $100 every 3 months. It might be the cheapest with the least side effects.
I also saw another recommendation for a Terminox Iron filter. What the heck is in it? Greensand?
Note the test was done a day after the well was really loaded down. Iron is not normally that high.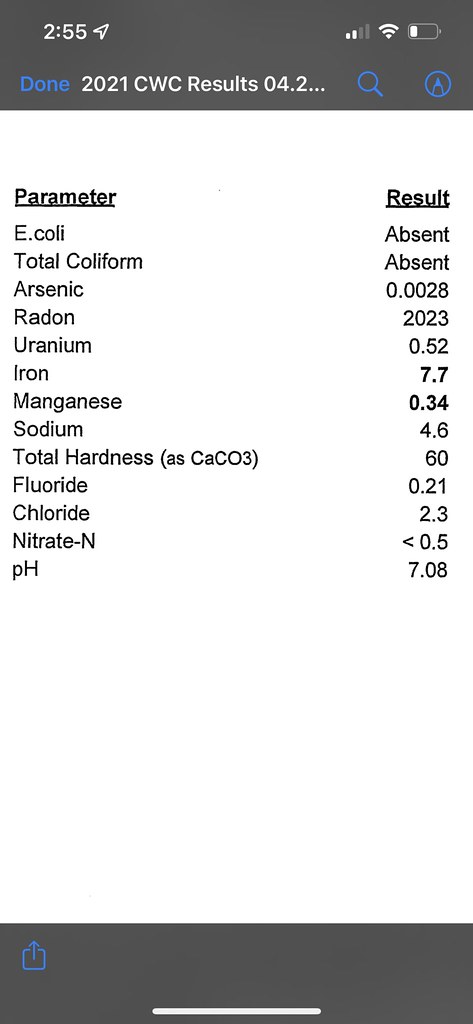 Last edited: