Messages

10
Reaction score

0
Points

1
I have a Whirlpool 50 Gallon tank purchased three years ago from Lowes. Given that we have an acid neutralizer and a water softener upstream of the hot water tank, this morning I went to pull the factory aluminum anode rod, inspect it and replace it with a new magnesium one. Unfortunately for me the aluminum surrounding the core wire has broken away from the core wire and the lower portion, the part still inside the tank, is also broken away from the core wire bending outwards and won't come up through the hole! i.e. the part inside the tank is the reverse of what can be seen outside the tank. (See Photo Below).
Other than cutting the core wire and letting the rest of the rod drop into the tank, I'm at a loss as to what I can do!
No tool that I have, nor one that I can think of, will fit through the top hole of the tank, go down six inches, grab the bent aluminum and bend it back towards the core wire so I can pull the whole rod out.
Urgently seeking Internet Advice regarding this problem. If you have any tips, clues or whatever as to how to get the rod out, I would be *most* appreciative. If cutting the rod and letting it stay in the tank won't hurt anything, I'm good with that too.
Please reply A.S.A.P.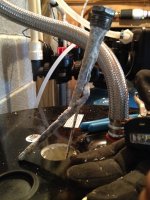 Last edited: