Terry Love's favorite Links
Plumbing Related Sites
A-Archer Sewer & Plumbing, Lombard IL 800-924-5758
Agri Industries, Inc 800-735-4908 Miles City MT
Allen Plumbing (RC - Cyberplumber) Robert Allen, Houston, TX
Associated Plumbers, Inc. Ferrell Johnson, Little Rock, AR
Backflow Prevention TechZone
B.L. Marlow Plumbing, Pawleys Island, SC
Cincinnati Plumbing Contractors, Inc 513-943-0026
Copper Knight St. Pete FL
Cycle Stop Valves
Done Plumbing Denver Colorado 306-487-3663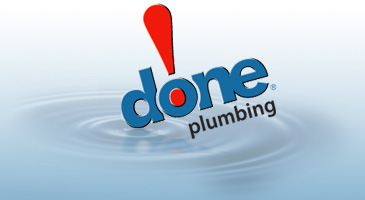 Famous Plumbers on the Web


Jacobson Plumbing Inc 480-473-8787
Joe the Plumber USA
Leak-Pro.Com
Levine Plumbing & Const. (509) 826-0660 Tonasket, WA
Love Plumbing & Remodel , Terry Love, Bellevue/Redmond, WA famous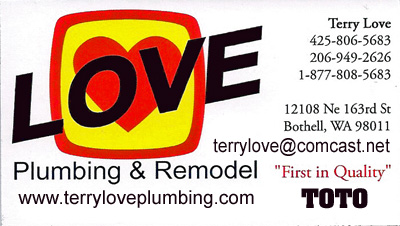 Master Crafts Plumbing & Carpentry 256-747-2650 Crane Hill AL
the Master's Plumbing company, 205-410-0652 Leeds AL
Mitchel Plumbing Co. Tacoma, WA
Plumber Montreal 514-236-2056
Penning Plumbing & Heating, Grands Rapids Michigan 616-538-0220
Plmg.com (Advice board)
Plumbing Solutions, LLC 803-513-5749 Irmo SC
PlumbingTips.Com
Pumps and Tanks 813-677-7867
Roger the Plumber, Overland Park, Kansas, 913-642-2979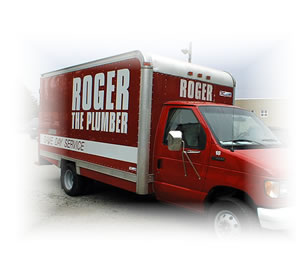 Steve's Plumbing Service Idaho
Terry Love Forum
Terry Love Forums
Tim's Plumbing & Heating, Kane PA 814-837-8781
Quality Water Associates 1-800-326-8494, 570-490-3201
Weilhammer Plumbing, 317-714-0759



PHCC of Northern Virginia
PHCC of Washington


Plumbing Supplies
Terry Love's Plumbing Store
Dix Systems, shower pan liners 888-450-0112
Elkay 630-574-8484

heater-home.com Wide Selection of Space Heaters, Garage Heaters, Infrared Heaters, Portable Heaters, Propane Heaters, and other Electric Heaters for home, garage and industrial use.

Plumbing Parts Depot 800-448-8977
"Parts for everything plumbing"

Saniflo 800-363-5874 maker of pumping systems and up-flush toilet
top of page
Electrical
Code Electric 515-208-2415 Grimes IA
Faucets Terry Love's faucet page

---
Appliance

Amana Refrigeration, 800-843-0304
Asko, 800-367-2444
Assn. of Home Appliance Manf. 312-984-5800
Black & Decker,
Bosch, (800) 944-2904
Creda, 800-99-CREDA
Dacor, 818-799-1000
Frigidaire Co., 800-374-4432
Gaggenau, 617-255-1766
GE Appliances, 800-626-2000
Jenn-Air, 800-JENN-AIR
Kitchen Aid, 800-442-1230
Maytag, 515-792-7000
Miele Appliances, 800-289-6435
Sears, 800-359-2000 Sears Appliances
Sub-Zero 800-444-7820
Thermador, 800-735-4328
Viking Range Corp., 601-455-1200
Whirlpool Corp., 800-253-1301

top of page

---
Cabinets
Canyon Creek Cabinet Co. 800-228-1830
Cadell Cabinetry
HomeCrest 219-533-9571
Kraftmaid Cabinetry
Merillat Cabinets
Wellborn Cabinet, Inc. 800-336-8040

---
Flooring
Armstrong Flooring
Builder Magazine
Jerry the tile guy, Seattle
John Bridge Services, good information and tile forum
TileYourWorld.Com

top of page

Gardens
- A gardening and garden related civilized discussion community forum. Forums for indoor and outdoor gardens plus forums for every topic under the sun related to plant care.
---
Hard Surfaces
Avonite 800-4-AVONITE
Kuehn Bevel 888-SS-EDGES
Pionite 800-746-6483
WilsonArt 800-710-8846


---
| | |
| --- | --- |
| | |
| 206-356-2821 | Specializing in color, C. Jayne Designs assists the client in creating a unique, personalized environment full of beauty, comfort, and quality. |

AEC Info
AC direct heating and air conditioning equipment at wholesale prices
Ask the Builder , All phases of home repair
The Bathroom page
Better Homes and Gardens
Bob Vila
Bristal Design, Bellevue
Build.com
BuilderOnline Builder mag
Remodeling Online
Designs in Tile TM
DoItYourself.com
Elite Spas Northwest Woodinville
Greenwave Construction 425-761-3530
Hendrikus Schraven Landscape Construction & Design, Inc.
Home Fashion Information Network
Home Inspections by Harkness Pittsburgh, PA, Good information
HomeRepairClinic.Com
Home Repairs & Ect.
Hometime,
Hulce Tile & Stone, Seattle area
Jerry the Tile Guy Seattle, 206-789-9083
JimSalmon.Com
The Kitchen page
LivingHome
McKay/Moore Construction Cost Consultants, Seattle, WA
M/G Architecture, (206) 323-2173
the Natural Handyman a feast of home repair help, information, humor, and encouragement!
Norberry Tile, Seattle WA
On The House
The Original Homeowners Painting Guide
PlumbingTips.Com


Property Inspector LLC, Jim Estrada Woodinville WA 425-985-3289
Sound Home Resource Center,
The Stevign Company, Mt Vernon (360) 422-5323 Bathtub repair
Toiletology 101, the Ultimate toilet repair link
World of Old Houses
top of page

---

Windows
Anderson Windows
CertainTeed 800-233-8990
Loewen Windows
Marvin Windows 800-346-5128
Pella Windows 800-54-PELLA
Pozzi Windows 800-257-WOOD
Weather Shield Windows
top of page

---

Government Links
City of Bellevue
City of Issaquah
City of Kirkland
City of Mercer Island
City of Redmond
City of Seattle
City of Woodinville Water
King County Government
Puget Sound Business Listings
top of page

---
Family Links
Amy Love, my daughter
Clare M. Love, He built an Altair computer, has taught mainframe code. (brother)
Jamie Love, my son, football punter, poet, and songwriter
Taylor Love
Shannon Love's Seahawk page
Trinda Love, sister
Out From Underneath
---

Return to home page of Love Plumbing & Remodel

Review Our Business at 2findLocal.com


ęCopyright 1996-2017 LOVE Plumbing & Remodel. ALL RIGHTS RESERVED. site designer, Terry Love
(425) 806-LOVE. Heart logo is a registered trademark