Faucets in the home may last twenty years before becoming worn and in need of repairs or replacement. Bath and shower faucets have been improved to provide temperature balancing to prevent "shower shock". Sometimes an updated look to the home is the reason for a faucet update. These links will help you browse on-line faucet catalogs to find the look you LOVE.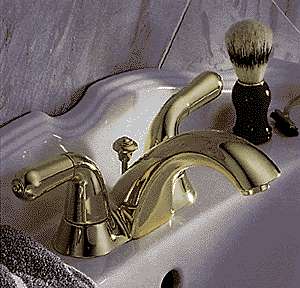 Delta BrillianceTM Will Not Corrode Tarnish or Discolor.
Day after day, year after year, BrillianceTM shines like new. Even the pop-up drain--usually the first part of a faucet to show wear--will keep its shine and luster.
ęCopyright 1996 LOVE Plumbing & Remodel. ALL RIGHTS RESERVED.
site designer, Terry Love.
(425) 649-LOVE. Heart logo is a registered trademark


425) 649-5683
Order faucets