Messages

19
Reaction score

1
Points

3
Location
I'm with family member located in illinois who is a bit stumped on how to modify/correct a standpipe connection to their septic main line. It passed inspection when purchased, but I'm pretty sure this was an oversight. This is the basement and it looks like the plumbing is a bit all over the place. There's an existing standpipe but no trap on the main line. Additionally, there's a sewage basin located in this basement. There is a floor drain, which is wet vented and has a utility sink also wet vented on main vent stack. The sewage basin has a circuit vent off the main vent (they need a new lid because old one is rusted). From what I can read, two fixtures on single wet vent is ok according to illinois plumbing code.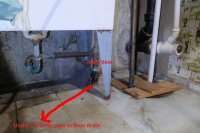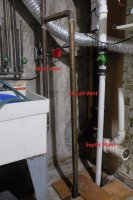 Section 890.1500
c. A vertical wet vent may be used for two fixtures set on the same floor level, but connecting at different levels in the stack, provided that the vertical wet vent/drain between the two traps is one pipe diameter larger than the upper fixture trap and that both drains conform to Appendix A.Table I. (See Appendix K.Illustration P.) (
link
)
From what I understand though, I need a p trap slightly above the main septic line with the standpipe then extending above.
Like in this picture from the diychatroom.com
.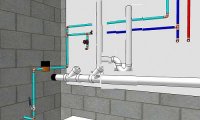 I could only find one mention of "clothes washer" in the entirety of the illinois plumbing code.
Section 890.410.
b. Distance of Trap to Fixture. The developed length from the fixture outlet to the trap weir shall not exceed 24 inches, except that an interceptor used as a trap shall be located as close as possible to the fixture. The maximum developed length from the fixture outlet to the inlet of the interceptor shall not exceed 5 feet. (See Appendix D.Illustration B.) The standpipe inlet for an automatic clothes washer shall not exceed 48 inches above the weir of a trap. (
link
)
How would they vent the standpipe though if they didn't want to AAV? Would they connect the standpipe vent to another circuit vent? Can they tie into the circuit vent above the sewage basin?
Assuming they wanted a lower drain elevation and let the sewage basin handle the washer waste, would it be possible to tie it into the went vent under the sink? It was my impression based on the code since the floor drain and the sink both use the same main vent stack, this was not allowed (two max). Is there another way around this problem? Using a branch with anther circuit vent?