Messages

16
Reaction score

0
Points

1
Location
Recently our "friendly Mr. Culligan" man quoted us $5,400 for a water softener system + another $600 for a RO under sink filter
After I recovered from sticker shock I decided it was time to finally start educating myself
--Started to educate myself--
After I recovered from being pissed off on how much dam markup they were trying to charge us, I'm ready to pull the trigger and get my hands dirty.
City water
13 GPG
237 TDS
--Still need to measure my flow rate. We have 4 full baths so probably the biggest valve size.
--Still need to look at past water bills to figure out how many gallons per month. (2 adults, 2 kids)
0 PPM Iron
0 PPM Hydrogen Sulfide
7 PH
I've got a Hach 5b on order so I can verifiy Mr. Culligan's GPG listed above. Using my calcium drop test from my pool I'm 75ppm on that alone (4.39 GPG calcium) I find it hard to believe the reset of the GPG is magnisum but whatever... Hach will confirm what my true reading is.
Anyhoo. On to the install.
Our water heater is in an exterior closet where the main shutoff valve is also located. Conveniently there's also an outlet in the closet. SCORE ONE for easy install!!!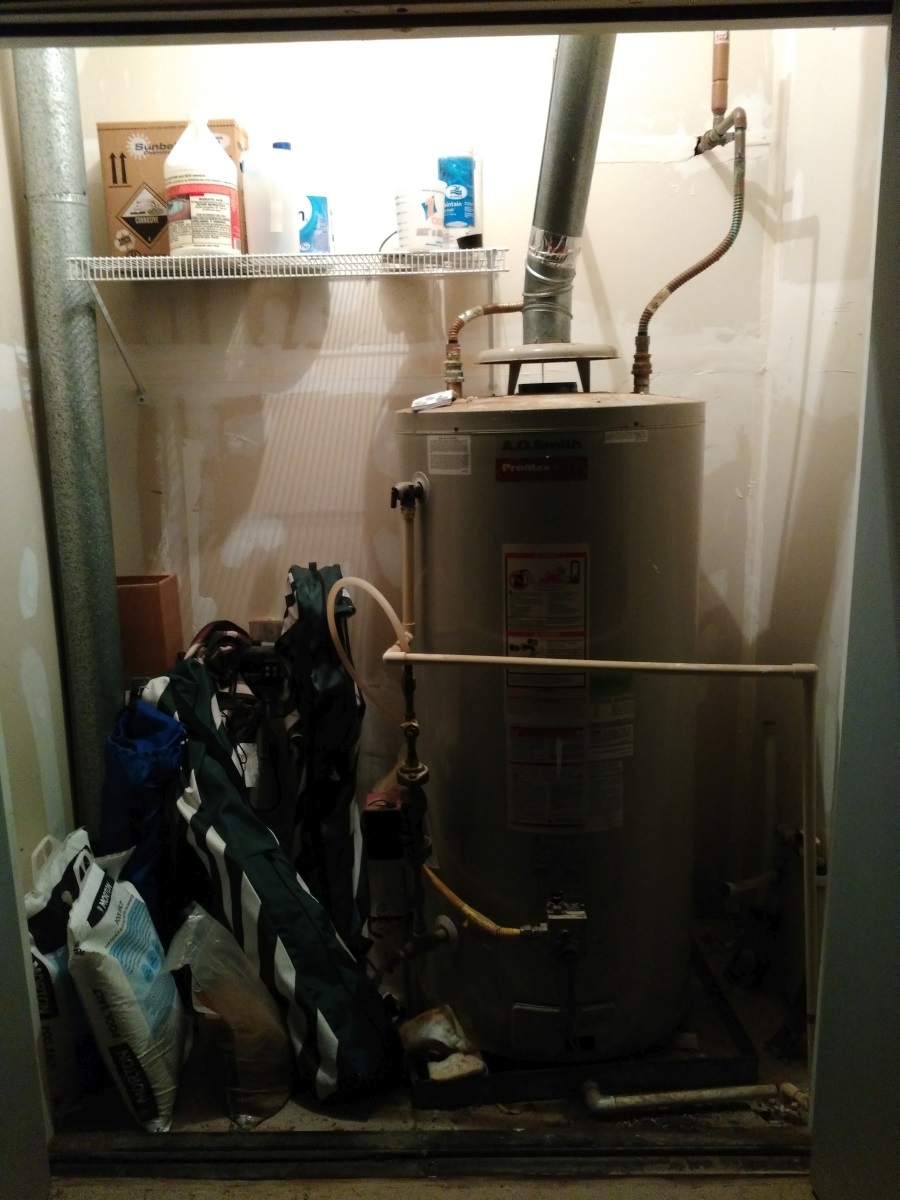 We also have a hot water recirculator and a pool.
If I turn off the yellow valve it shuts off water to all spigots interior/exterior. Dunno why the put on a capped branch? Who knows. But what's that second vertical capped pipe for?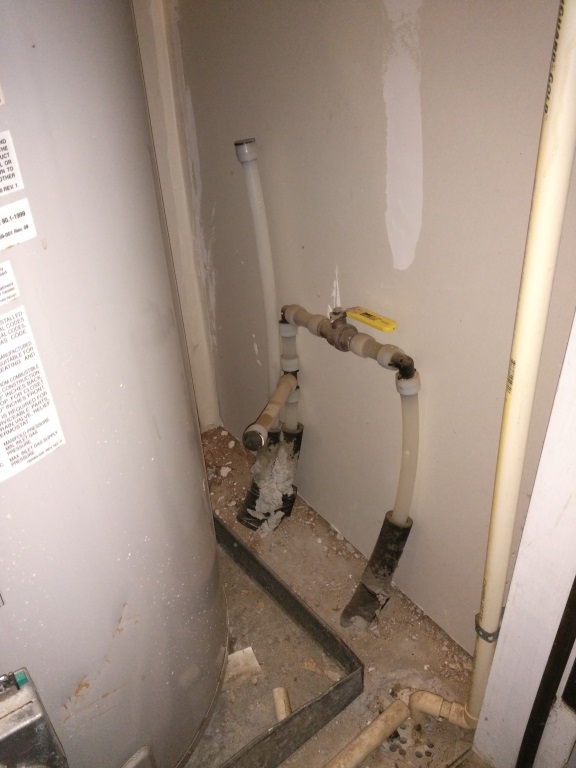 There's also this mess behind the water heater. Dunno why they didn't drywall it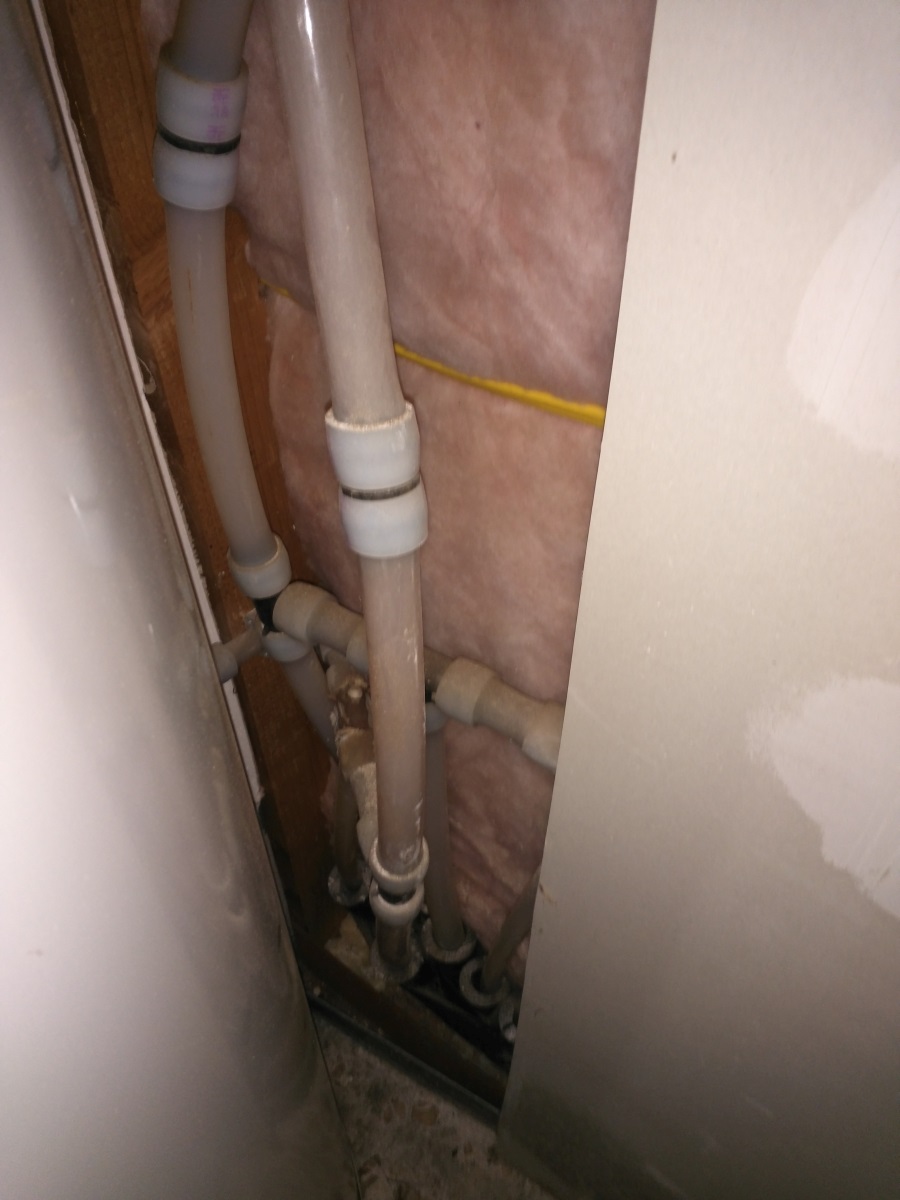 Were the capped horizontal and vertical lines put in place by the previous owner in case a softener would eventually be put in? I'm hopeful that only our interior bathroom and washer gets softened water and that this line is a separate branch.
The only other thing I can think of is that the capped vertical pipe goes to our pool and could have been used as an automatic pool top off feeder?
As for a softener, I'm leaning toward the Fleck 7000 SXT 48k. Still trying to figure out the best internet seller to buy from.
For the RO water filter I went with an Express Water 5 stage system with extra filters for $139 off Ebay. Woot?
http://www.ebay.com/itm/5-Stage-Hom...S-Extra-7-EXP-Water-USA-Filters-/271555919071
Blows my mind I'll be able to order all the parts for well under $1k and a couple hours of my time to install them. But I guess there are suckers born every minute so Culligan can stay in business.
Last edited: