Messages

8
Reaction score

0
Points

1
Location
Some questions regarding my shower valve (pressure balanced), but 1st about the valve/connections:
1) Link to the valve:
https://www.homedepot.com/p/Glacier-...9004/304685280
2) Connections to valve and shower head: 1/2" PEX.
After looking at the link to the valve again, I noticed the flow rate is only 1.8 gpm. I read on a website that the best way to determine if a valve has a restrictor is to see how long it takes to fill up a 5 gallon bucket after removing the shower head. Also, the website said if a valve has a restrictor, that using a shower head with the restrictor removed will not increase the gpm. I assume from the website that a restrictor in a valve cannot be removed.
Other than the possible low flow rate from the valve my other concern is the quality because it's low end. I purchased it mainly because the style of the trim matches my tub and sink faucets and at the time I wasn't thinking about flow rate.
If the result of the 5 gallon bucket test indicates a much faster flow rate than 1.8 gpm, my 2 options are:
1) Do not replace the valve unless it fails. If so, the hole in the backer for the valve will be 6" and there's also an access panel in the rear that's accessible from the hallway closet.
2) Remove the valve anyway because it's low end and replace with a better quality valve but only if can find one where the existing handle/trim plate fits on it. The ratings of other Glacier Bay valves about the same as the existing one.
Have any of you had to replace Glacier Bay valves due to failure?
Which option you think is better?
If answer is #1, how hard is it to replace a valve with a 6" hole in backer and an access panel in the rear?
If answer is #2, and replies to this post is that it's difficult to replace a valve even with that much access, the time would be do it is now because backer not installed yet. Can some handles fit on other brands?
BTW, I installed ditra on the lower half of the studs as shims because they were not plumb.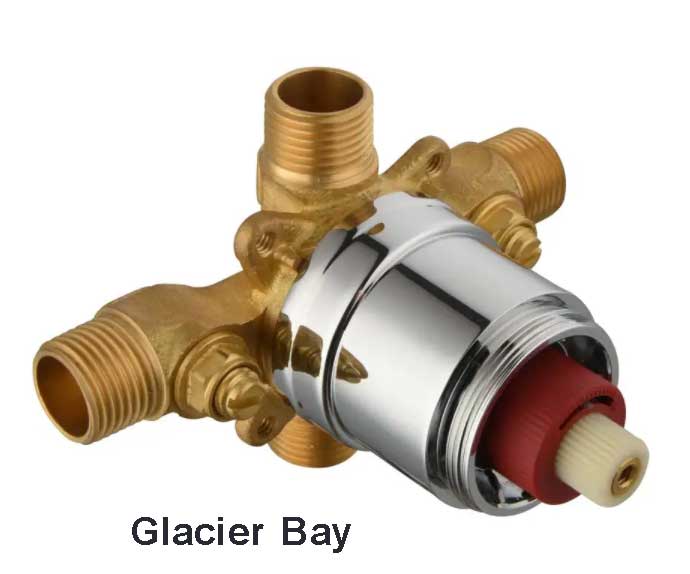 Last edited by a moderator: