Messages

197
Reaction score

5
Points

18
Location
Website
Hi all,
After opening the box I rolled up the stairs I saw the warning in the instructions: Double Y connection: YES. Double Sanitary Tee/Sanitary Cross: NO.
NOW YOU TELL ME??
The first thing that crossed my mind was why isn't there a warning on the model pictures in the listings when you're first shopping for these? Ever try returning an unboxed plumbing item?
In any case I proceeded with the installation knowing full well that we have a cast iron Double Sanitary Tee. It turns out that the water in the adjacent toilet moves even less than when it's windy outside, and with multiple flushes the water level in the adjacent bathroom (Kohler San Raphael from 2010) hasn't changed.
We recently had the c.1952 lead-bend replaced with PVC for the San Raphael, as well as the flush mechanism. I also cleaned out the siphon jet with a carbide drill bit (hand held, gingerly turned, etc) and the years of uric acid build up turned to sand making the flush much better.
It's no Toto, though, but it's working fine and looks perfect.
Here's the new TOTO MS853113E ECO ULTRAMAX ONE PIECE I installed using the Better Than Wax kit. First I rolled it in on a homemade dolly.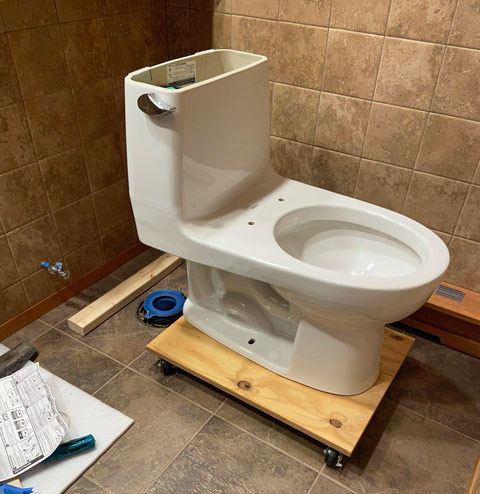 Next I slid it off the back of the dolly onto a pair of 2x3's so that the mounting holes lined up perfectly. My back is thanking me this morning. I let it sit overnight to compress the spacer gasket. The flange was about 5/16" below tile level. The next morning the bottom edge of the toilet was within 1/8" of the tile surface, so I bought some toilet shims, but also cut up a piece of magnetic sign material. I tightened the bolts, and trimmed the shims with a sheetrock knife, and masked the tile in preparation for the silicone caulking later today.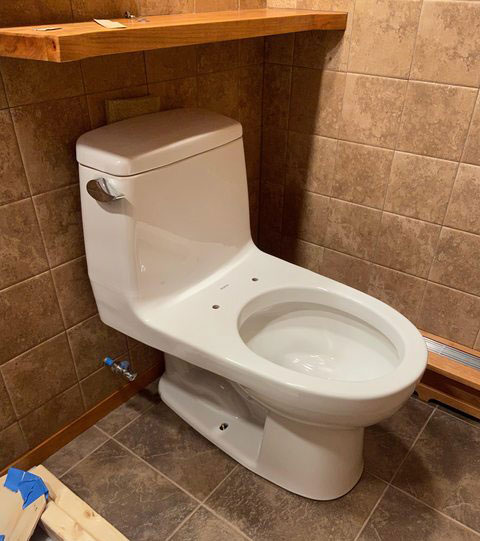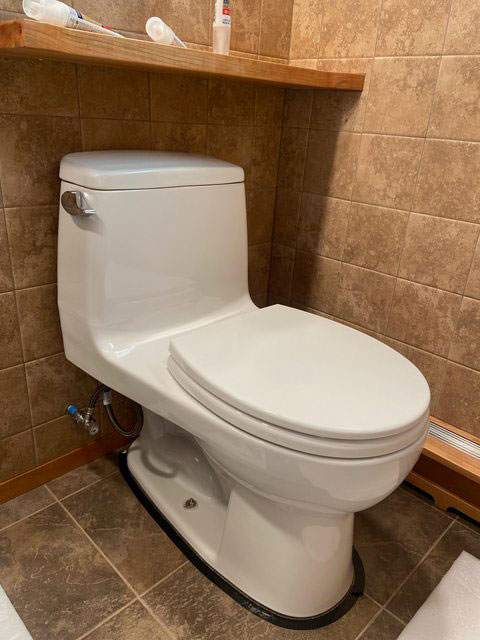 Here's an overall shot of the Toto wall sink (shroud not yet installed) and toilet.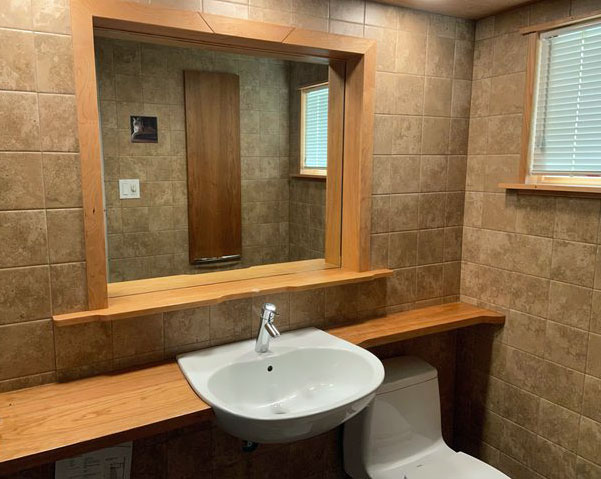 I'm very glad I went with my gut feeling, so to speak, and thank you so much to Terry Love for this forum! It's been a big help over the last decade+!
The shower area tiling is next........
Regards,
Howard Emerson
Last edited: