Messages

19
Reaction score

1
Points

3
Location
I had a Navien NPE-240A installed a few weeks ago. It replaced an 11 year old 40 gallon storage tank that could not handle peak demand (4 adults, 2 kids all showering in the evening). I was taking lukewarm showers on a regular basis, sometimes even cold showers...
It's working well and definitely solved the problem of running out of hot water, but we noticed that all our plumbing fixtures (single-handle w/ mixing valves) need to be dialed significantly further towards the hot side than before to get the same water temperature as before.
Is it correct to say that this is due to the inherent pressure drop in the heat exchanger, which means the hot water pressure is less than on a traditional storage tank? In other words, if you mix the same ratio of hot/cold you now get colder water than before, so you need to mix in more hot water to compensate?
This is not a problem for us, but the shower in the rental suite has a safety stop so the handle can only be rotated so far towards hot (to prevent scalding) and now our tenant is complaining that the water is not hot enough with the handle rotated as far as it'll go. I have some options:
1) raise water heater temperature from 120 F to 130 F. Not ideal since I have young kids and don't want them to accidentally get scalded by 130 F water.
2) bust open the offending shower valve and set the safety stop further towards hot.
3) I noticed that the installers added some (seemingly) unnecessary 90 degree elbows on the cold and hot side. I think they did this to be able to clamp the pipes to the wall. I read that each PEX elbow reduces water pressure by around 2 psi. Would removing these 4 elbows help in this situation?
Here's what I mean about the unnecessary PEX elbows. The red lines are how I would redo it. Is this helpful or futile?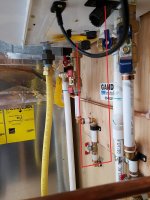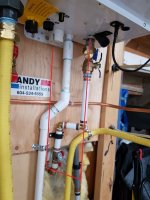 Separate question: what is the right way to measure hot water pressure of a tankless water heater? Can I attach a water pressure gauge to my washing machine's hot supply line, then turn on a nearby faucet as hot as possible and expect to get a valid reading?
Thanks!
Last edited: