Messages

6
Reaction score

1
Points

3
Location
Hello,
today I was trying to drain and flush the 10year old water heater for maintenance. Here are the steps I followed after I checking out the instruction videos on YouTube: 1. Shut off gas valve, turn the knob to off. 2. Close the cold water valve on the heater water 3. Connect a garden hose to the drain 4. keep the hot water facet in kitchen open 5. open the drain valve 6. Open the T&P valve.
After 50 min of waiting, I briefly open the cold water supply to flush, water is coming out from both garden hose and T&P valve line (I am wondering why the water came out from the T&P valve line as well). I repeated it 3 times and the same thing happened.
I disconnect the garden hose from the drain, close the drain valve. Turn off the T&P valve, open the water supply to refill the tank. If I do not turn off the T&P valve, the water comes right out from the T&P valve drain once I open the water supply.
I have not yet relight the tank yet but I noticed water is dripping from both the drain valve and T&P valve. Water came out from the kitchen facet smoothly without giving any air splash.
The two valves on the water heater were not leaking or dripping before I did the maintenance. Now that they do not stop dripping and I am wondering if there were any steps that I did wrong through the maintenance and how can I fix it.
Please help and I really appreciate it! Thank you.
quick update:
After 2-3 hours wait, now that the T&P valve line is not dripping and only the drain valve is dripping. Right now I have not relight the gas, the cold water supply is open, and only the drain valve is dripping.
Should I relight the tank and see if everything works and hope the drain valve will stop dripping?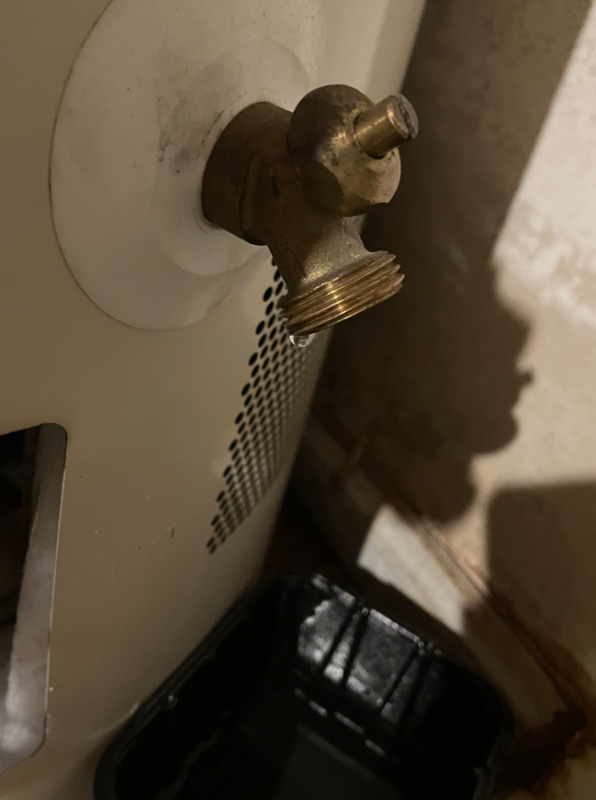 Last edited by a moderator: