Messages

35
Reaction score

0
Points

6
Location
Happily begging once again for advice from the experts: I'm looking for a replacement part for a single handle lavatory faucet. Mine looks somewhat like the LaToscana 82PW211L Brunello by Paini, Paini apparently being an Italian import. This is the part in question:
It's something like 7/16" OD x 1/2", with a 3/8" ID for most of its height, and a 1/4" ID lip at the top. What do I call this? A bushing? A kind of grommet? I'll refer to it as a bushing because I don't know better. In any case, this bushing and its partner, one for the hot water line and one for the cold, live inside a cartridge. Each bushing has a little spring that presses the lip against the rotating inner part of the cartridge.
The entire unit looks like this: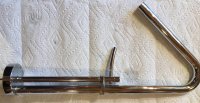 ​
I would be much obliged if any of you know where I might find such a replacement part, or even what exactly I would call it. The faucet predates my 2011 purchase of the house. I would guess that it came from Home Depot or Lowes, but I don't know any of that for sure.