Messages

7
Reaction score

0
Points

1
Location
Ok gang, need some electrical help! I've called some area electricians to help troubleshoot, but so far no call backs or they're a couple weeks out from being able to even come take a look.
Working on my house still that I bought last year in central Illinois. Had two rooms (ok, one tiny room and one tiny hallway) that I converted into one room. Each space had a separate light, I removed one of the lights and am now wanting to turn the other light into a 3-way switch scenario so when I come in from the garage I can turn the light on and when I make it to the dining room, I can turn the light off at a different switch.
I've ran several different configurations with the hot wires and neutrals acting as the hot switching things around based on a few configurations I found searching the internet, however, I can't seem to get it all to work with the 2 3-way switches on opposite sides of the room. I can get the light to turn on and off from both switches, but I can't turn it on from one side and turn it off from the other. In the main switchbox the black line bridges to a separate switch that also controls outside lights, so that is complicating matters more. I've since put everything back the way it was to start at square one since I already blew a breaker.
The 14-2 power source is coming in from the ceiling to a junction box, that connects to a 14-3 and a 14-2 line. The 14-3 is the one that controlled the hallway light (which is the one I'm trying to convert into a 3-way). The other 14-2 in the ceiling is sending power to the lights in two adjacent rooms (dining room and a laundry room).
The 14-3 in the switch box bridges to a 14-2 to control the outdoor lights.
In the ceiling there is a white pigtail and a red hot line from the 14-3 that plugged into the original ceiling light. In the ceiling now I have a new 14-3 running that will run from the light to the new switch. From the new switch I also want to put an outlet below since there isn't an outlet in the room. So, a lot going on that I can get some of it to work, just not all of it at the same time.
Hopefully someone can decipher my notes and diagram to help troubleshoot this.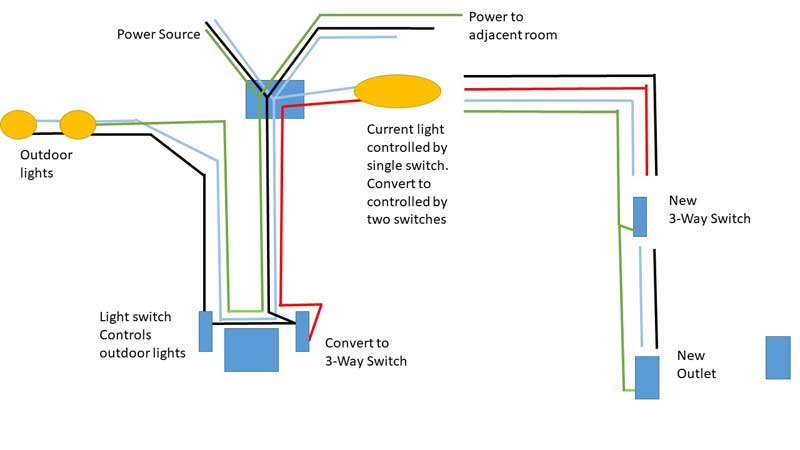 Last edited by a moderator: