I have been installing all the shut-off valves on an addition project. I'm using quarter turn angles or straights, 5/8OD inlet and 3/8OD outlet like the one pictured here. The install went fine on the cold water side, but now I am installing the hot side and I'm 3-for-3 on leaks. It's been a week since I did the cold side, maybe I forgot how to tighten a compression fitting?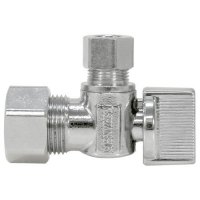 The leak is a slow drip from the inlet side, best I can tell from the far side of the nut where the copper slides through. I have a couple questions that other websites don't seem to have the answer to.
If I overtighten the compression nut, can I ever use the ferrule (and nut?) again? If I did overtighten it, the copper stub wasn't visibly damaged, I wire brush cleaned it a bit and tried again, still leaked. Used a new valve, still leaked. Moved on to the next location, new valve, that one leaked too. I've been trying to stick to the recommended method - hand tighten until resistance is felt, then 1/2 turn with the wrenches.
Can I use a small amount of pipe joint compound (maybe put it on after the ferrule goes on?), or is that just crazy talk? Thank you if you's can lend any insight.