Still early in the reno process and can play with the layout a bit. My space is 11'3" x 5. Formerly 1.5 baths, merging to a single full bath. Took up the subfloor and quickly realized that my planned layout wasn't going to work.
Here's the plan:
Below is where I planned to put the 30" tub/shower (despite tub in the picture, I'm thinking a standard alcove tub and shower), but of course the first stud next to the left of the old toilet flange is at exactly 16", to the left of that is a 5.5" x 8" HVAC duct, which prevents me from doing a plumber's box. (I am not responsible for any existing plumbing/framing-- I'm guessing a handyman special). You can see just in front of my feet there's a "step down" to accommodate the original plumbing. But closer to my feet, the ceiling returns to normal height. The joists are 2x8.
Here's the whole space (before I pulled up the subfloor). That's a 3" stack dividing the rooms-- I'm going to cut it off below and run it up to the attic in the wall to the left.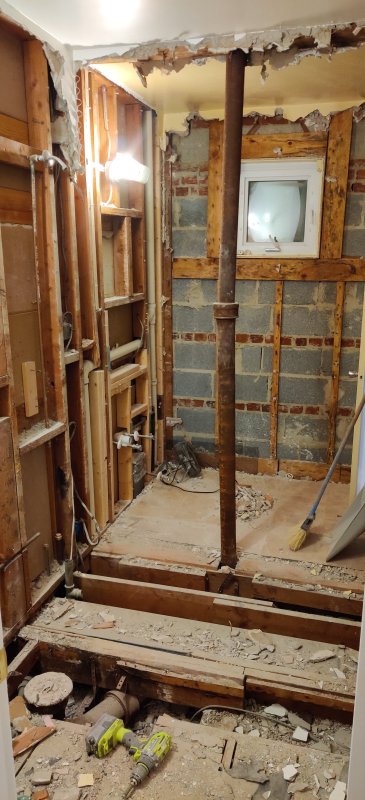 After realizing I couldn't do a plumber's box, I considered this layout:
Perfect, except, as you can see, there's a window straddling the tub (there's 18" on either side of the window).
What are my options here? So far, the only thing I can think of is putting the tub on a small platform to accommodate the plumbing. I could also move the duct over one joist and make a plumbers box, but that would mean 1) finding 5.5" x 8" duct/connectors and 2) installing a new register in the master bedroom in a less than ideal location (behind a bed).
Stuck here. Hope you guys have some ideas-- e.g., tub with some sort of nonstandard drain, some sort of shower curtain solution for my alternate arrangement of fixtures, some sort of third arrangement of the fixtures I hadn't considered.