I have a house that was build in the mid-90s, and I'm remodeling part of an old master bath. I want to leave a jet tub in place (tile around it) but I want to replace the faucet (spout and handles) as one of them leak when you turn them on (tried replacing the o-rings, but no avail there it seems). I'm also not a big fan of the wood handles even if they didn't leak.
While I've done other plumbing stuff, I've not messed with a jet tub like this...and one big problem is there's zero access to the tub faucet area. The tub is on the main floor and the basement is finished with a drop ceiling. No access from basement to that faucet area I can see.
I was peeking around on youtube and saw a couple folks replace the faucet handles/spout from above only...but in each case they seemed to know what brand/model of faucet they had on the tub. I've no idea what faucet hardware this is - can't find any brand or model markings.
I'd like to avoid cutting into the tile and putting a big white, plastic access panel in (would be right in the middle of the tile work). I've seen a few examples of cutting a part of the tile wall for a panel access as well. I'd like to avoid cutting the tile at all, but I'm thinking I have to in order to swap this faucet hardware.
Pic of the tub hardware in case anyone here recognizes the brand/make/model: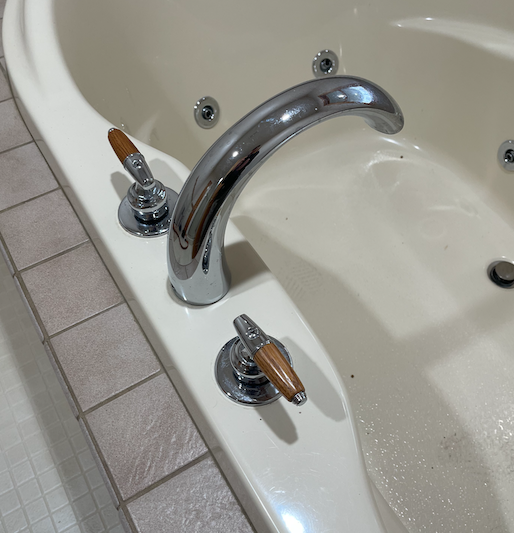 Open to any advice you pros might have! Thanks in advance!