Hi all, long time lurker, first time poster. I know this has been asked before and I've read each thread to avoid posting - though none seem to be exactly my setup, or atleast I am struggling to translate to my setup.
Currently my laundry room has a washer and dryer side by side. I have stacked the washer dryer to create a roughly 36 inch area where I plan to drop in an undermount sink + cabinet next to the washer/dryer, with an upper cabinet above it at the ceiling level and backsplash in between cabinets. I want to move the washer inlets and standpipe so that they are not visible (not obstructing backsplash tiles), but still acessible. Ideally I would move them to below the sink, but I undertstand from other posts that I can not move the standpipe to below the sink, since it needs to be higher than the sink. So I'm thinking my options are to move the inlet and standpipe way up so that it is behind the new upper cabinet, (assuming the height would not cause an issue?), or perhaps some other option?
Can anyone help me by confirming how I could plumb this setup to achieve above? Though not in my image, I'm assuming there is one existing p-trap above the floor currently. Thanks all in advance.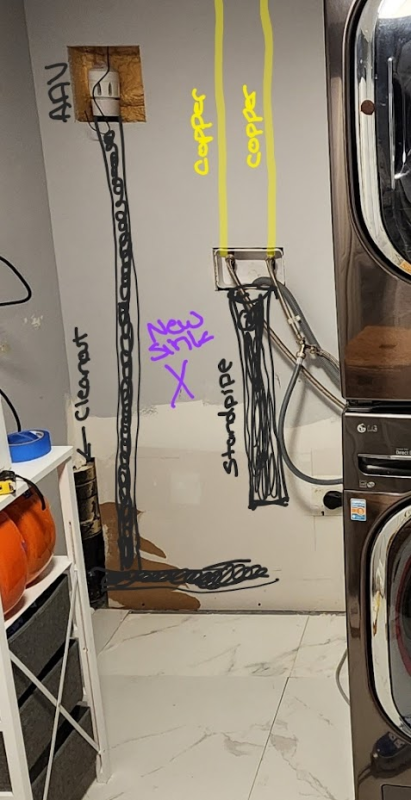 Last edited: