I assume the issue has to do with air and venting in some way but I have to admit, I can never wrap my head around where air is supposed to be and supposed to not be in drains.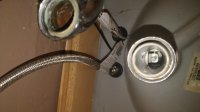 I opened up the trap and there was nothing clogging it and I could pour water down the drain into a bucket just fine. There's no sign of a clog anywhere in the stopper mechanism or the trap or the pipe continuing from the trap. So I guess pouring any more chemicals or hot water or whatever down the drain isn't going to help at all.
There is an overflow drain moulded into the sink so I assume air should be able to escape that way but perhaps that passage is clogged? But when I plunger it water happily spurts out the overflow just fine.
One thing that concerned me was that when I opened the trap there was no water in it. Isn't there supposed to be water sitting in the trap up to the level of the next bend?
I don't see any venting but I don't know where the pipe goes after it goes through the floor of the vanity. It may have venting in the wall where it connects to the main drain -- or it may not.