Messages

9
Reaction score

0
Points

1
Location
Need to replace my pressure tank. Going with a larger Pentair WM-14WB (47 gal) fiberglass tank and a conventional tee at the bottom with integral pressure gauge & cut-off switch. Originally wanted to go with the Flex-Lite FL17, but no stock anywhere, unless you want to pay double the price. Anyway, the existing plumbing looks inefficient and sloppy. Figured while I had the piping apart, I would replumb/reroute the lines and move the pump off the blocks.
Currently fitted with a Goulds 1/2hp J5S pump.
- Is there any reason at all to have the pump stacked up on blocks like this? I was thinking of moving the pump down to the concrete pad (which is already about 12" off the basement ground floor), and simply putting a rubber anti-vibration block below it to sit on. Would you agree?
- Was planning to remove the existing cut-off switch from the pump and utilizing the one that comes with the new "tee" assembly, as well as remove the existing pressure gauge.
- Will need to pull the new larger tank "forward" a bit to clear the white PVC drain pipe at the back, as the new tank will be taller and won't clear the pvc drain pipe.
- All lines are currently copper, so I can easily re-configure, as needed
- Would anyone be willing to sketch up how they would ideally plumb this, and layout the pump & tank, if they were starting from scratch?
- Assume you ideally want the pump and tank as close together as possible, with as few 90 deg bends as possible
Thank you for any suggestions. I would like to do this "correctly" while I have it apart, and looking for advice from the guys with more experience. Have never owned a house with a well pump before this one (always had city water).
WM-14WB: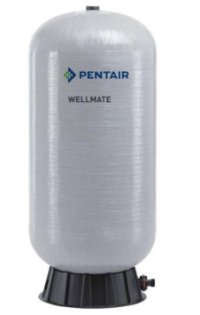 Tee Assembly w/gauge & switch: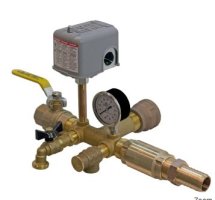 Existing layout in basement: