Hello. I am attempting to move a toilet within a bathroom. I have limited room to work and am trying to find the best way to join to the 3" drain seen in the pictures. The flow of the existing drain is from right to left in the picture.
The vent seen in the top of the picture is about 17 inches from the right side wall. The 12" mark in the picture is from the back wall.
The vanity on the lefthand side will be moved.
The combination wye would have pipe stubs on either end and join to the existing drain with fernco fittings.
I do have room on the right side drain (under the slab) in the picture to slide a fernco forward to fit the wye and stubs.
Most importantly, would this be an acceptable setup for the toilet drain?
What would be the best method to cut the existing drain in this instance?
Any information or ideas would be helpful. Thank you.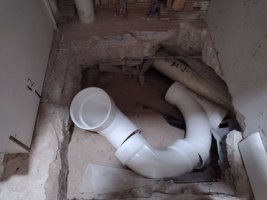 Last edited: