Good morning,
I'm finishing my basement of my Colorado home built in 2007. The builder roughed in the drain and vent for a bathroom. I don't know what the configuration is under the basement floor slab, but we have three pipes in the floor: one horizontal pipe down in a section of the floor that was left open for shower/tub (that I'll need to add a p-trap), one for the toilet, and one that is the drain for the lav and I'm assuming will also wet vent the shower since there aren't any other pipes coming up. There is a 2" pipe coming out of the ceiling that is capped off that is the vent. Here's a drawing of the floor plan and how I think the pipes are laid out under the slab and how I want to plumb the lav and sink in the room adjacent.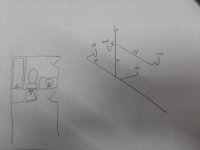 Our county uses IPC 2018 with the following amendment for wet venting:
pp. IPC Section 912.1 Horizontal wet vent permitted Add a new exception to read: Exception: Fixtures other than those considered to be bathroom group fixtures, of equivalent drainage fixture units, may be included in the wet vented section provided the total number of drainage fixture units does not exceed the total number included in two bathroom groups and the fixtures not considered bathroom fixtures are valued at one drainage fixture unit or less.
Can we add that sink in the other room to this?