Messages

15
Reaction score

0
Points

1
Location
A laurel, and hearty hello! This is my first post here on this forum. I hope it isn't premature, as I am still learning. I have done quite a bit of searching here, and have found answers to many of my questions. But I wanted to get some more feedback to further my knowledge.
I just had a Navien NPE-240A tankless system professionally installed. I also had a NaviCirc unit installed under the sink farthest from the unit. Plus NaviLink. We live in a log home and have historically had issues with getting hot water to the upstairs shower. That is, we'd have to run the water for a minute or two before you could even entertain the thought of jumping in. I didn't expect the 240A to solve that issue, so I added the NaviCirc. Because we live in the cabin, and it was essentially built around the plumbing, there is no way to add a dedicated return line for a recirculation system.
I am not sure the installers were very familiar with the NaviCirc. They did set the #2 jumper to ON. But none of the other parameters indicated in the NaviCirc manual were set. Specifically, I went in and set the P.17 – Enable Thermal Bypass Valve to ON. It had been off. I did not mess with P.12 pump cycle interval time or P.14 return line sampling time. I also set the 2-way valve inside the water heater to "EXT." It had been set to "INT". It is also of note the recirculation mode on the LED display had been "on" all the time until (after reading a post here) I learned how to set it to come on and go off at certain times in the NaviLink app. Now it is only on when we shower.
I post all of this to say that, so far, I cannot tell a bit of difference in the time it takes to get hot water to the upper shower. Probably my imagination, but it almost seems like it takes longer! It takes over a minute for the shower to even start to get lukewarm. About three minutes before it is at full temperature. The shower brand is unknown but was installed in 2004. Simple one-handle adjustment for hot/cold. I have the water temperature set to 130F. The installers said something esoteric like "the system will learn your patterns and over time you sill see a difference...". I am not sure this is logical considering I have the recirculation set to specific times anyway.
Is there anything else I need to configure in my unit I am missing? Maybe I am expecting too much or do not fully understand what to expect out of the NaviCirc. Curiously (again, newbie thought here) I'd expect the hot water line to be at least warm to the touch going into the NaviCirc, but it's ice-cold before I turn on the hot water faucet above it. Shouldn't it be warm if it is recirculating hot water? Even when the unit was set to recirculate 24/7 (before I set schedules in NaviLink) it would always be cold to the touch. Perhaps that isn't very scientific though.
I certainly appreciate any tips!
Thanks! Chris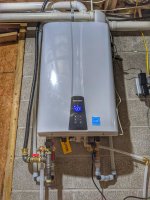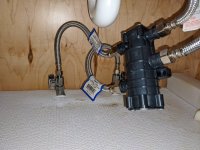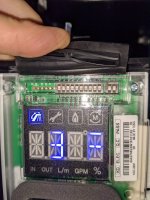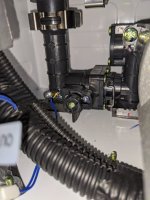 Last edited: