Greetings,
I'm having a nightmare of a time with a dumb RV toilet job that has taken 6 months, and various drip leaks after the "fix".
What I originally had to do was engineer a shutoff valve with various barb fittings to fit different size hoses. The original hose on the RV is a large 1/2" Inside Diameter hose, so I couldn't find anything on the internet like this to replace the broken fitting that went to the toilet. So I had to use a smaller hose and this shutoff valve, like this: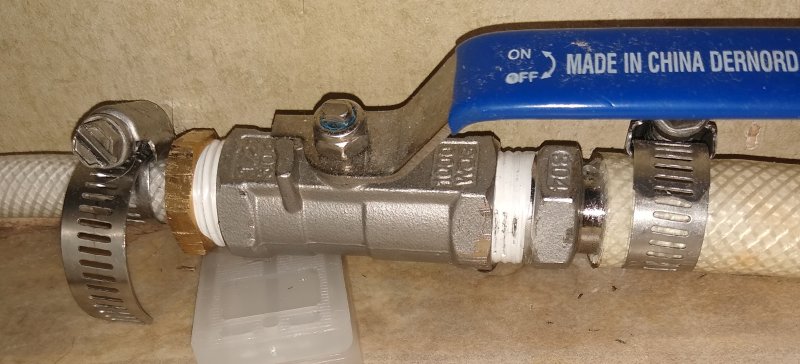 The smaller problem is the teflon tape leaks on both fittings. I've been trying to tighten it more and more, but it just keeps leaking. So I'll probably have to take it all apart and put teflon tape on it again, etc. The fittings are all 1/2" NPT, but had to buy a mix of stainless steel and brass due to amazon's availability of certain barb sizes and packages getting lost in the mail, a big headahce...
However, the
BIG PROBLEM
that I'm writing about is a new leak that appeared under the vanity, where that same 1/2" larger hose connects to an elbow. It seems to be leaking right at the connection and it drips into the RV water department, causing big pools of water and ice. This probably leaked from me screwing around moving the hose while trying to fix the teflon tape leaks:
I'm not a plumber, but I've worked with shark bite, minor DIY stuff, "engineered" that shutoff valve setup, etc. However, I've never worked on that plastic elbow stuff. I don't have a crimp tool to put that metal piece at the end of the hose in the area where it's leaking.
So I need someone with experience with this stuff to tell me how to fix the leak or what these connections are. I'm not even sure if that metal piece and plastic are all one piece, or if the plastic screw part is part of the elbow, like a compression screw on fitting.
Does this require some sealant glue? Do I need a whole new elbow part like this, or is it as simple as taking a pliers and try tightening the fitting, or do I unscrew that part and try getting the hose in further and re-tighten it again? I don't want to screw around with this piece and not be able to put it back together if something goes wrong, so hopefully someone knows what this setup is about.
Thanks
Last edited: