Messages

3
Reaction score

0
Points

1
Location
Hi all,
This is my first post, so I apologize in advance if I've put this in the wrong section or messed up any technical terms.
I'm redoing my dining room and had the ceiling torn down, and so decided to do the plumbing for an upstairs bathroom above said dining room. The bathtub has a drum trap I was going to replace with a P-trap (not a big issue) but there's a vent pipe connecting just after the drum trap that I'm wondering on the status of. Can it be removed, or should I just tie it in after the P-trap with a wye? The 3" vented stack for this line is about 6' away (next picture) if that makes any difference.
Drum Trap Link
Following along the same drain the tub (and lav sinks) empty into this 3" elbow with a 1.5" drop on the side directly under the commode, and I'm suspecting that's not allowed. I think these are used more for venting, and not much for flushing sewage accidentally into your tub drain. Should I rebuild this section to include a 3x3x1.5" wye (or sanitary tee) after the elbow from the commode?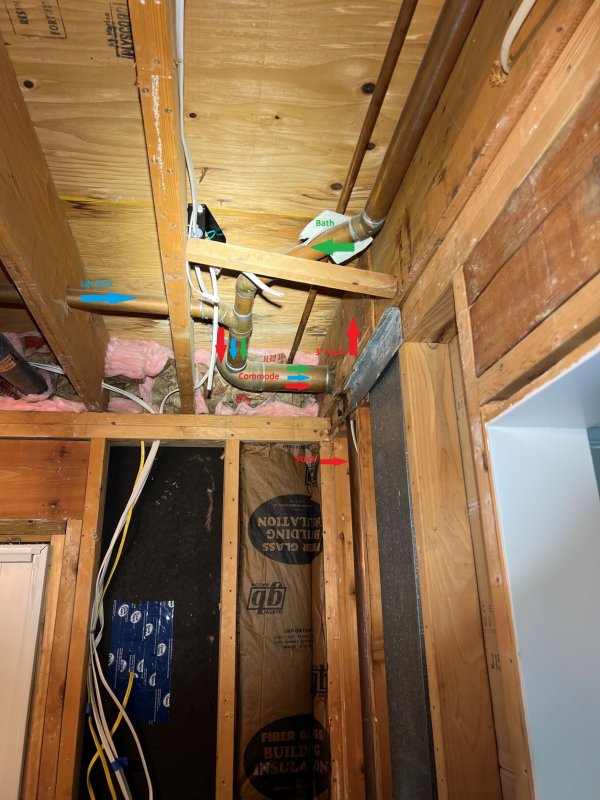 Commode Link
Thanks in advance for any advice you can share.
-C