Messages

39
Reaction score

4
Points

8
Location
Hi everyone,
I'm planning to build a bathroom in my basement and wanted feedback on my plan.
Layout - I am adding a three piece bathroom to the corner of my basement. I went with this basic layout and this 30" x 60" shower pan. The shower fixtures will be accessible from a closet on the other side of the wall. The backwater valve will be located and accessible from a closet on the other side of the wall. I am having a professional plumbing install the rough plumbing for the three drains. I will install the AAV vent, hot and cold supply, etc.
Walls - I plan to frame my walls 1" away from the foundation walls. So, to measure the drain locations, I measured 1" from foundation, then 3.5" for 2x4 wall. Then, I could measure drain locations from the walls.
Flooring - The shower pan will go directly on the concrete with a mortar bed. It's level and flat already. The rest of the bathroom will get Dricore subfloor and LVP flooring
Venting - This bathroom is located +15' from the main vent stack to extends to the roof and under the basement concrete floor to the city sewer outside. So, I plan to install an AAV in the wall with an access panel. It would be located basically under the window, 4' higher than sink p trap.
Here are the images to help,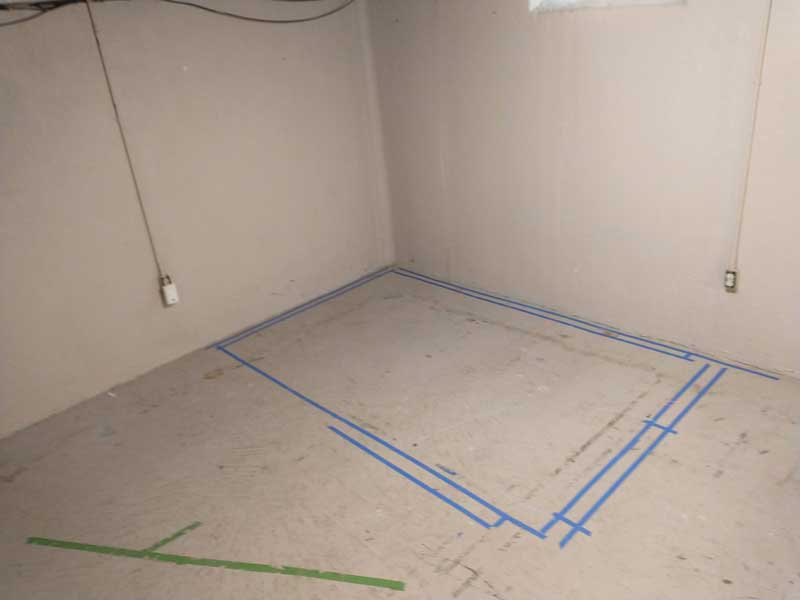 https://imgur.com/a/i3mHyQv
Here are the questions I have:
Am I right to put the shower pan directly onto the concrete instead of on top of the Dricore subfloor? That's what I read is best. Use a mortar bed for the shower pan to concrete. Then rest of bathroom will be on Dricore subfloor.
Do the specific locations of the shower drain, toilet drain, and sink drain make sense?

I gave the toilet 30" width and located the drain 15" from shower and 12" from wall.
I gave the sink 36" width and located the drain centered to that area and within the wall.
I located the shower drain 15" and 12" from wall cavity. That's based on the shower pan manufacturer.

Will an AAV work for venting this bathroom? How exactly would I install that? Connected to the sink drain?
Anything else I didn't consider?
Thanks for any help you can provide!
Last edited: