Messages

10
Reaction score

0
Points

1
Location
Hey all,
New homeowner here, been remodeling the whole house. Bought a Rheem 50 gal platinum plus gas (natural venting, only powered flue flap no fan) on clearance. Looked in the manual and it calls for B vent. Ran it out the house and up the side above the roof (per local code).
Issue I have is I discovered it didn't come with the draft hood that stands off from Rheem. The B vent appliance draft hood connector fits fine, but I'm worried about back draft, CO poisoning etc if it's not okay. I had turned it on and lit a match and snuffed it out for a smoke test by the hood and nothing was pulled in, just rose straight up.
The unit has not been turned on since I tried that. Im sure I can get the stand off draft hood locally if I need it, but if I don't that's obviously better. Please let me know if this is a safe way to hook up the vent or do I need to change it out.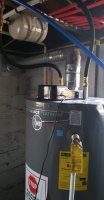 Thanks!
Joe
732 485 6943