Unretired defense industry engineer
Messages

14
Reaction score

0
Points

1
Location
I just replaced my 120V cooktop, and now its time to hook it up. The 50A service is fed through #8 stranded Al Type SE cable, and the cooktop has #12 stranded Cu. Its pretty clear to me from researching the topic that Al-Cu connections have to be done right, if they can't be avoided altogether.
The original connection (done in 1983) was a wire nut and de-ox grease, and there was no sign of oxidation or overheating. I'd go that route but I can't seem to find anything other than copper-to-copper wire nuts. Are those acceptable to use, even with Ox-Gard?
The other options would be ILSCO aluminum split bolt connectors or ILSCO crimp connectors, installed in a junction box. I'm leaning towards having a pro install a junction box and use crimp connectors. That seems to be the most permanent, reliable and safest method, short of pulling new copper.
I'd be interested in what the pros think.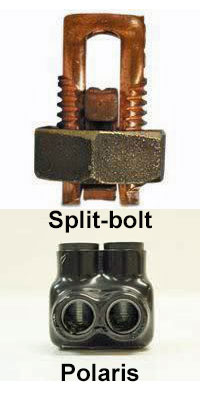 Last edited by a moderator: