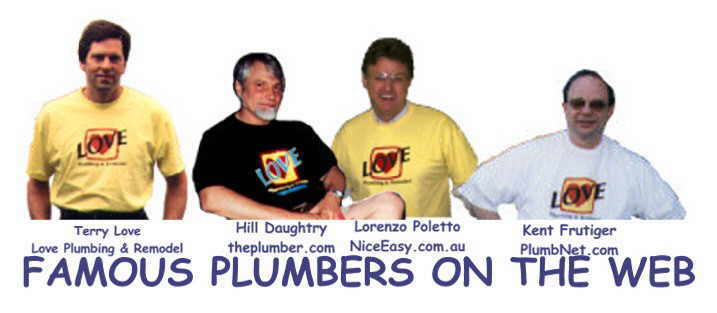 Hill Daughtry
https://theplumber.com/
The first plumbing site I found was Hill Daughtry's web site, theplumber.com. A very large and informative site containing the history of plumbing, articles and good informative advice to homeowners on plumbing.

Hill started his web page in the Spring of 1995. At that time his was one of the few plumbing pages on the web. Hill devoted hours a day taking part in List discussion groups about the plumbing trade.He was answering 30 emails a day about plumbing and trades information with plumbers on a worldwide basis.


email comments


Hill Daughtry Lorenzo Poletto Kent Frutiger Terry Love Bud Hardman
Back to Famous Plumbers on the WEB
ęCopyright 1997 -2010 LOVE Plumbing & Remodel. ALL RIGHTS RESERVED.
site designer, Terry Love.
(425) 806-LOVE. Heart logo is a registered trademark