Messages

1
Reaction score

0
Points

1
Location
Got a new home ~7k square feet in the mountains at 6,000' elevation. The previous owners lived there full time but we are only in roughly one week a month, and set indoor thermostats back to 58˚ when idle. Was built in 96, has hydronic heating with two Lochinvar RBM-270 boilers, mixing pump, 8 inside zones and 3 outside snowmelt zones. Inside thermostats are simple air-sensing white rodgers that control zone valves for the water. Most of the radiant tubing is in concrete, there are a few carpeted areas but presume the carpet is also on top of a concrete slab. Domestic hot water is completely separate (two cascaded storage water heaters).
There is a lot that seems very weird.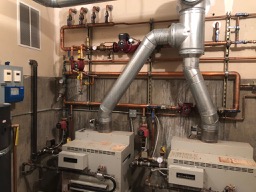 Main boiler setup with lower boiler loop, upper system loop for inside heat.
Tap off boiler heat with heat exchanger to outside snowmelt zones.
Tekmar 365 mixing control (bottom), clock (top left, controls the unoccupied input to mixing control but is not used), two stage thermostat (top right, turns off respective boiler if temp after it returns to main boiler loop is over 185, resets when below 175).
First of all, the tekmar mixing control isn't doing anything. Literally. Both the variable speed pump output and 4-20mA valve output are unconnected. The mixing pump just runs at fixed speed with no regard for anything. The only thing that modulates is if there is no heat demand from any zone valve, then all the pumps and boilers are shut off.
Each boiler has its own service thermostat that is set to ~150 and a high limit thermostat at ~180. But they are connected to the heat exchanger by long copper wires and I believe that they lag the actual temp pretty significantly.
Because the mixing control doesn't do anything, the system loop temperatures vary wildly. When the house is fully heated, it will be from 140˚-160˚. It makes for nice and toasty floors but I presume is not great for efficiency. On the other hand, when warming up from setback, can barely drive system loop to 90˚ even though output from boilers is at 180˚, and return temp to boilers at 80˚.
It is rare that both boilers run, even under maximum load (say, heating house from 58˚ setback to 68˚ when it's 10˚ outside). If the first is on, it's rare that its output is low enough to trip the second to turn on. If they're both on, the temperature after second boiler returns to the boiler loop quickly exceeds 180˚ and the tekmar thermostat flaps it off and on every minute or so.
Even with an inlet temperature of 80˚, the second boiler is capable of sustaining outlet temp of 180˚ alone. Makes me wonder why two were needed in the first place - perhaps the circulator pumps should have been bigger to better pull heat out of the boilers? The first boiler doesn't produce as large a rise, but based on observations it runs 2x-3x as often and so is probably less efficient due to runtime/age. Heat exchangers were replaced in the last year or two on both.
So... can anyone help make sense of the above? Is there method to the madness? Is it pure madness? It really looks like system is running well below ideal efficiency, what might be done to improve or repair it? My theory is that it was designed (probably well) by one person and installed by another with little regard for the intent of the designer.